Profiles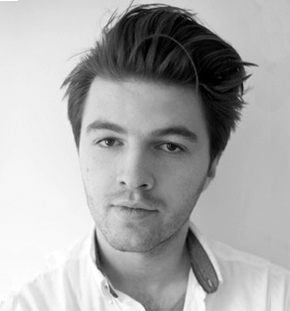 Demir Purisic
Demir Purisic (class of 2015) is a student in the B.Arch. Program
Why did you choose SSA?
I chose to study at SSA because it was the only program that truly fits me. It is my home away from home, where I have established friendships that will certainly last a lifetime.
Where are you from?
My childhood began in a small town called Plav in a small country called Montenegro (former Yugoslavia) about 1000M above sea level, where I spent most of my time with my pet goat named Bambi (but for the sake of time I won't get into the details). I've lived in Queens for most of my life and attended school in Brooklyn and Manhattan. I know, my early childhood is far more interesting.
What were you doing before you began your studies at SSA?
Before SSA I was a student at Brooklyn Technical High School and that's where my creative endeavors began. Along with a few friends, I started a clothing brand called BOTS (Brick Oven T-Shirts). This was our way of getting our ideas out, spending countless hours in my basement screen-printing shirts and making something tangible. Since then, the BOTS family has dispersed and we've all taken separate paths in life.
What's the favorite project you've worked on at SSA?
This is a very difficult question! I looked through my portfolio to try and find one. Each project I've worked on has helped me improve myself as a designer, thinker, and architect. That being said, if I had to choose, I believe the most ambitious project I've worked on was during my fourth year. I was in Professor Alberto Foyo's studio and we did a redesign of the "No-man's" land along the Gaza strip and envisioned an "All-man's land." Despite countless naysayers, and the monumental difficulty of the task, I still believe it to be an idea worth pursuing, if only for the potential of generating a conversation.
What other activities are you involved in?
Outside of school I try to be involved in things that are not directly involved with architecture but are still related to design. One of these things is Kidsuper, a clothing brand turned into a creative studio. I started it with by my best friend in 2011 and since then it has evolved into a creative hub where artists, musicians, and filmmakers come to collaborate on different projects. Being involved in varying worlds of art and design is integral to being a great designer.
What is something unexpected that you have learned at SSA?
Another tough question. There are countless things I've learned at SSA that I did not expect. I believe the incredible diversity among the faculty and students provides an education unlike any other. I've found that each semester I am surprised with just how little I know and just how much there is to learn. One of the most important lessons I've learned is to try and operate outside of my comfort zone, trying new things and experimenting with new ideas. SSA has given me the confidence to do that.
Blog