Faculty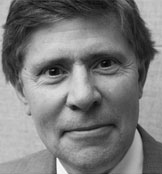 Educational Credentials :
M.L.A., University of Pennsylvania, 1973
M.Arch., University of Pennsylvania, 1970
B.A., Yale University, 1966
Teaching Experience :
Professor, City College of New York, CUNY, 1975-present
Chair, Spitzer School of Architecture, CCNY, 2005-2013
Adjunct Associate Professor, Columbia University, 1974-1986
Professional Experience :
Founding partner, Peter Gisolfi Associates, Architects and Landscape Architects, LLP, 1976-present.
Peter Gisolfi's design work addresses the connection between landscapes and buildings. His primary focus is to shape places—usually groups of buildings connected by open space. Most of the work is contextual, based on a careful understanding of regional climate and traditions. His buildings and landscapes are adapted to the environment, constructed with local materials, and fit gently into their natural and man-made settings. The work is intrinsically sustainable and carefully crafted.
Licenses/Registration :
Architecture License, Connecticut, Indiana, Maryland, Massachusetts, Missouri, New Jersey, New York, North Carolina, Pennsylvania, Rhode Island, South Carolina, Tennessee, Texas, Virginia
NCARB Certification
Landscape Architecture License, New York State
Selected Publications and Recent Research :
Finding the Place of Architecture in the Landscape, introduction by Vincent J. Scully Jr., Mulgrave, Australia: Images Publishing, 2008.
Peter Gisolfi has written more than 110 articles on design issues which have been featured in national publications such as Learning by Design, American School Board Journal, Landscape Architecture, American School & University, School Planning & Management, College Planning & Management, Terrain, History Magazine, and Planning Magazine. He has lead numerous workshops on campus planning, school design, and library design, and has been invited frequently as a speaker, guest lecturer, critic, and juror.
Peter Gisolfi is the recipient of more than 80 architectural design awards including 25 from the AIA.
Professional Memberships :
The American Institute of Architects
American Society of Landscape Architects,
American Library Association
Society of College and University Planners