Adjunct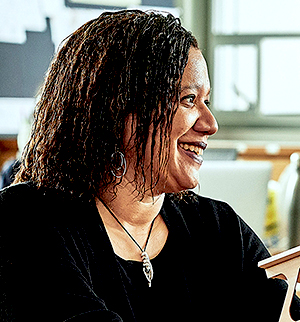 Educational Credentials :
M. Arch., University of Pennsylvania, 2000
M. International Affairs, Columbia University, 1995
B.A., Philosophy of Religion, Columbia University, 1992
Teaching Experience :
Adjunct Assistant Professor, City College of New York, Spitzer School of Architecture
Adjunct Associate Professor, Graduate School of Architecture, Planning and Preservation and School of International and Public Affairs; Columbia University
Visiting Assistant Professor, Pratt Institute
Instructor, University of Pennsylvania, Graduate School of Fine Arts
Professional Experience :
StudioTEKA, New York, Principal
L'Observatoire International Lighting Design, Project Manager & Consultant
Leni Schwendinger Light Projects LTD, Project Manager & Consultant
Edu-Tourism Inc., Jamaica, Board Member/ Inter-Build, Founder
Rogers Marvel Architects, New York, Designer
Rafael Vinoly Architects, New York, Designer
Smith-Miller + Hawkinson Architects, New York, Designer
Wiel Arets Architect & Associates, Maastricht, The Netherlands, Junior Designer
Kieran Timberlake Associates, Philadelphia, Junior Designer
Megacities, New York, Environmental Quality International, Cairo, Team Leader
National Committee for HABITAT, UNCHS, Project Assistant
Licenses/Registration :
Selected Publications and Recent Research :
2100: A Dystopian Utopia / The City After Climate Change. New York: Terreform, 2017.
Kingston Harbour: Development Transects eds. Michael Conard & Vanessa Keith with an introduction, "Kingston Journal: a search for hybrid solutions," by Vanessa Keith. Book published by the Trustees of Columbia University, 2010.
Design Against the Elements, Studioteka competition entry and an interview with Vanessa Keith featured in Surface Asia Magazine, February 2011. "Notice Board", YMCArt Center featured in Mark Magazine, April / May 2010, Volume 25, p. 22.
"Clip-On Architecture: Reforesting Cities" and "Clip-On Architecture: Climate Crisis Causes and Solutions," featured in Urban Omnibus, a project of the Architectural League of New York, January 2010. Articles also cited in Huffington Post's Village Green column, "Instead of building new sustainable places, let's green the ones we have," by F. Kaid Benfield, 01/28/10, and in Fast Company, "The Age of the Urban Retro-Fit: Reversing Climate Change, One Green Roof at a Time," by William Bostwick, 01/14/10.
YMCArt Center, SuckerPUNCH Design Competition, Honorable Mention, 10/12/09.
"Honors." YMCArt Center featured in the Architect's Newspaper, Issue 19, 11.18.2009.
Flatiron Marketing Offices: Frame Magazine, Daily Dose of Design, "Ad Agency by Studioteka," August 15, 2008 and Hinge Magazine, Hong Kong, "Folio," February 2010, Volume 175, p. 38.
"Clip On Architecture: Tropical Deforestation and Potential Solutions to the Climate Crisis." Lecture given to Saskia Sassen's Global Urbanism class at Columbia University's School of International and Public Affairs, November 17, 2008.
Tre Restaurant: Blackbook Magazine, "Tweaked Italian at Tre'," 01/22/08; New York Sun, "New Horizons," 02/27/08; New York Times, "Off the Menu," 12/05/07; Village Voice, "Wine Swap Tonight, Plus Free Snacks," 01/28/08; Gothamist, "Openings Roundup," 12/07/07, Thrillist, "Tre," 12/04/07.
Nurse Bettie Bar: New York Magazine, Grub Street, 1/4/07; New York Magazine Bar Guide; Time Out New York, 1/11/07– 1/17/07, featured bar in "New This Week" Section; reviewed in Shecky's New York City Nightlife 01/07, Real Estate Weekly, "StudioTEKA doctors design of Nurse Bettie Bar," 10/17/07, Miami Herald, "What's New in New York," Travel Section, 10/07/07.
"Theory and Practice," Two presentations and lectures on Studioteka's creative visual work given to students at the Universidad de San Francisco de Quito, in Ecuador, November 2006.
"Urban Ecosystems," Public exhibition and discussion of charrette work for XV Bienale, Casa de la Cultura Ecuatoriana, Quito, Ecuador, November 2006.