Lectures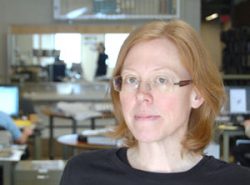 Billie Faircloth
Search. Search Again.
6:30pm
Sciame Auditorium (Room 107)
Introduction: Ahu Aydogan Akseli
Billie Faircloth, AIA, LEED AP, is a partner at KieranTimberlake, a prominent architecture firm established in 1984 and a leader in practice-based architectural research and innovative buildings. She leads a trans-disciplinary group of professionals leveraging research, design, and problem-solving processes from fields as diverse as environmental management, chemical physics, materials science, and architecture. She fosters collaboration between disciplines, trades, academies, and industries in order to define a relevant problem-solving boundary for the built environment. In her professional and academic research she conspires to pursue an answer to the question: "Why do we build the way that we do?"
Billie Faircloth has published and lectured internationally on themes including research methods for a trans-disciplinary and trans-scalar design practices; the production of new knowledge on materials, climate and thermodynamic phenomena through the design of novel methods, tools and workflows; and the history of plastics in architecture to demonstrate how architecture's 'posture' towards trans-disciplinary practices and new knowledge has changed over time.
Her articles have been published by the Journal of Architectural Education, Princeton Architectural Press, Royal Danish Academy of Fine Arts, and ACADIA. Her book Plastics Now, On Architecture's Relationship to a Continuously Emerging Material, was published by Routledge in June 2015. Billie currently teaches at the University of Pennsylvania School of Design and Harvard University, and is a VELUX Visiting Professor at the Royal Danish Academy of Fine Arts. Prior to joining KieranTimberlake, she was an assistant professor at the University of Texas at Austin School of Architecture, where she instructed research studios exploring applications for conventional and emerging material technologies and conducted seminars on emerging construction and fabrication technologies.
All lectures are free, open to the public, and held at 6:30 pm in the Bernard and Anne Spitzer School of Architecture Sciame Auditorium. Continuing Education Credit for registered New York architects is available.
Lecture series sponsored by Sciame . . . Where Building Is an Art.
Blog