Lectures
Sciame Lecture Series: Alessandra Cianchetta
Alessandra Cianchetta / AWP (squared) Works
5:30 pm - 7:00 pm
Bernard and Anne Spitzer School of Architecture
141 Convent Avenue
New York, NY 10031
Sciame Auditorium (107)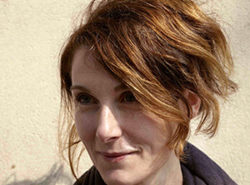 Alessandra Cianchetta (AWP Ltd Architects, UK) is a London-based architecture and urban design practice with a growing international reputation for innovation and place-making, formerly based in Paris. Cianchetta's portfolio includes master planning and design projects for high-profile urban regeneration projects, including the Paris Central Business District, as well as major commissions for private and public stakeholders across Europe including cultural buildings, art venues, and office buildings. She is a visiting professor at Spitzer in Spring 2020.
The spring 2020 SCIAME lecture series at Spitzer includes a full line-up of lectures, symposia, and special events that highlight our commitment to climate, environmental, and social justice. Under the broad umbrella of "Climate Justice: Time to Think, Talk and Make Change," we've put together a truly global series of speakers. All lectures are free, open to the public, and held in the Bernard and Anne Spitzer School of Architecture Sciame Auditorium. Continuing Education Credit for registered New York architects is available.
Lecture series sponsored by Sciame . . . Where Building Is an Art.
Blog