Lectures
Sciame Lecture Series: Christian Benimana
Justice Is Beauty
6:00 pm - 7:30 pm
Bernard and Anne Spitzer School of Architecture
141 Convent Avenue
New York, NY 10031
Sciame Auditorium (107)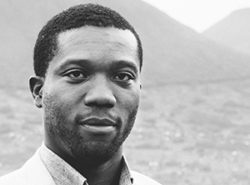 Christian Benimana joined MASS Design Group as a Global Health Corps Design Fellow in 2010. Today, he works as one of the firm's senior principals and managing directors, and is director of the African Design Centre, a field-based apprenticeship that is set to empower leaders who will design a more equitable, just, and sustainable world. At MASS, Christian has been involved with design-build projects, development initiatives, and operational and administration leadership. He has taught at the architecture school of the former Kigali Institute of Science and Technology (KIST) and served as the secretary general of the East Africa Institute of Architects. Prior to joining MASS, Christian worked with LongiLat Architecture and Research in Shanghai assisting with the Porsche Center in Shanghai and the Netherlands Pavilion in the 2010 International Expo. He holds a bachelor of science in architecture from the School of Architecture and Urban Planning (CAUP) of Tongji University in Shanghai, China (2008), and his goal is to develop the next generation of African designers with socially focused design principles.
The spring 2020 SCIAME lecture series at Spitzer includes a full line-up of lectures, symposia, and special events that highlight our commitment to climate, environmental, and social justice. Under the broad umbrella of "Climate Justice: Time to Think, Talk and Make Change," we've put together a truly global series of speakers. All lectures are free, open to the public, and held in the Bernard and Anne Spitzer School of Architecture Sciame Auditorium. Continuing Education Credit for registered New York architects is available.
Lecture series sponsored by Sciame . . . Where Building Is an Art.
Blog