Lectures
Sciame Lecture Series: Mae-ling Lokko
Coconut Coup d'Etat: On Activating Generative Justice through Design
5:30 pm - 7:00 pm
Bernard and Anne Spitzer School of Architecture
141 Convent Avenue
New York, NY 10031
Sciame Auditorium (107)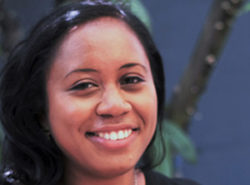 Mae-ling Lokko (Ghana/Philippines) is an architectural scientist and building technology researcher whose work centers on the upcycling of agrowaste and biopolymer materials into high-performance clean-building material systems for humidity control, indoor air-quality remediation, and water-quality-control applications. Lokko holds a PhD and MSc in Architectural Science from the Center for Architecture Science and Ecology, Rensselaer Polytechnic Institute, and a BA from Tufts University. Her research integrates a broad range of technical, environmental, social, and cultural criteria that question contemporary material-value systems. She also codevelops business models for upcycling and evolves material life-cycle design criteria to meet generative-justice criteria. Lokko teaches seminars on energy and ecology in relation to the built environment, waste use and upcycling, and ecoeffective material life-cycle design.
The spring 2020 SCIAME lecture series at Spitzer includes a full line-up of lectures, symposia, and special events that highlight our commitment to climate, environmental, and social justice. Under the broad umbrella of "Climate Justice: Time to Think, Talk and Make Change," we've put together a truly global series of speakers. All lectures are free, open to the public, and held in the Bernard and Anne Spitzer School of Architecture Sciame Auditorium. Continuing Education Credit for registered New York architects is available.
Lecture series sponsored by Sciame . . . Where Building Is an Art.
Blog