Lectures
Sciame Lecture Series: Virginia Hanusik
Changing the Visual Narrative of Climate Change
5:30 pm - 7:00 pm
Bernard and Anne Spitzer School of Architecture
141 Convent Avenue
New York, NY 10031
Sciame Auditorium (107)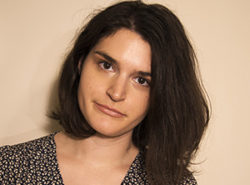 Virginia Hanusik is an artist and writer whose work explores the relationship between landscape, culture, and the built environment. Her projects on climate change and environmental justice have been exhibited internationally, featured in Domus, Places Journal, NPR, Fast Company, Oxford American, Newsweek, and The Atlantic, among others, and supported by the Graham Foundation and Mellon Foundation. She is a member of the Climate Working Group at New York University and is currently working on a body of work about climate adaptation along the American coast. She received her BA from Bard College and lives in New York City.
Hosted by June Williamson.
The spring 2020 SCIAME lecture series at Spitzer includes a full line-up of lectures, symposia, and special events that highlight our commitment to climate, environmental, and social justice. Under the broad umbrella of "Climate Justice: Time to Think, Talk and Make Change," we've put together a truly global series of speakers. All lectures are free, open to the public, and held in the Bernard and Anne Spitzer School of Architecture Sciame Auditorium. Continuing Education Credit for registered New York architects is available.
Lecture series sponsored by Sciame . . . Where Building Is an Art.
Blog