Publications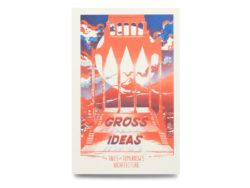 Gross Ideas: Tales of Tomorrow's Architecture
Edited by Edwina Attlee, Phineas Harper, and Maria Smith
Dean Lesley Lokko is the author of a short story in Gross Ideas: Tales of Tomorrow's Architecture, a new book that explores the architecture of the near future glimpsed through the lens of fictional characters, places, and buildings. Its 17 original short stories, written by designers and authors, imagine the trajectory of architecture, cities, and economics amid a backdrop of profound climate and social change.
Lokko's story, "Heart-Shaped Emoji," situates the experience of two sisters within the larger framework of economic and social remittances sent by migrants to family and friends in their countries of origin.
Gross Ideas is published by The Architecture Foundation in association with the Oslo Architecture Triennale.
Blog