Undergraduate Programs
Bachelor of Arts in Urban Studies and the Built Environment
OVERVIEW
The undergraduate Bachelor of Arts in Urban Studies and the Built Environment program is a four-year liberal arts degree at the Bernard and Anne Spitzer School of Architecture. The Urban Studies and the Built Environment major is open to undergraduate students from across the City College of New York interested in studying cities and urban life.
Studying in New York City, the most populous city in the United States, majors in Urban Studies and the Built Environment will wrestle with the ethics of citymaking as they prepare to serve as stewards of our cities, drawing on their multidisciplinary education to assess and respond to changes in the urban condition.
The curriculum consists of five required courses introducing students to the general themes of the city through the lens of the built environment and exposing them to various methods of research, analysis, and communication. Each core course addresses questions of environmental impact, social justice, and the role of the built environment professions (including design and planning alongside real estate development, transportation administration, and municipal governance) in managing urban growth and neighborhood change. To complete the program, students are also required to undertake a two-semester capstone project. Throughout their studies, students will benefit from the resources and faculty of the Spitzer School of Architecture without majoring in architectural design.
Graduates of this program will be prepared to enter non-design careers in the built environment professions, including urban planning consultancies, city agencies, real estate development firms or brokerages, social service and community-based non-profits, transportation logistics companies, and business development and marketing positions within the AEC (architecture, engineering, and construction) sector.
This program will also prepare students for graduate study in the professional fields of urban planning (including at programs within CUNY) or real estate development as well as advanced graduate study at the master's or doctoral level in urban studies, sociology, geography, or architectural history.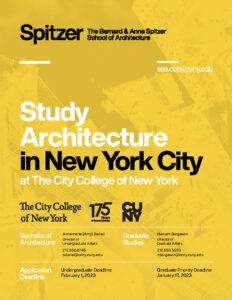 Courses
Introduction to Urban Studies
SOC 10500: Individual, Group, and Society: An Introduction to Sociology
Core: The City in History
Core: Techniques of Urban Communication
Core: Social Justice and the Built Environment
Capstone Project I
Capstone Project 2
Elective 1
Elective 2
Elective 3
Elective 4
Elective 5
General Education/Pathways Core:
Fixed Core/12 Credits: English Comp 1 & 2, Math & Quantitative Reasoning, Life & Physical Sciences
Flexible Core/18 Credits: World Cultures & Global Issues- Literature, World Cultures & Global Issues- History, Creative Expression, Individual & Society, Scientific World
Additional CCNY requirements: 12 credits in CLAS College Option
Curriculum
Urban Studies Major: Course structure and student schedule:
The major will require 36 credits including:
15 credits in the core curriculum (5 courses)
15 credits of elective seminars (number of courses depends on the student's program). **At least one of the elective seminars must fulfill the requirement for a quantitative analysis class (which can be found in various statistics classes in the departments of Economics, Sociology, or Psychology) and one in social theory / qualitative research (which can be found in Sociology, Anthropology, and Political Science.) Please see advisor for a list of current CCNY elective offerings.
6 credits of Capstone project (2 courses)
Other Important Program Information
Study Abroad
Spitzer students have several options to study abroad – over the summer session or for an entire semester. Spitzer students have a range of choices for countries to study in at the City College level and CUNY level.
Career Development and Job Opportunities
With over 50 years of training students in New York City, the Spitzer School and its alumni network have vast and varied connections with city agencies, firms – large and small, as well as construction companies and design firms. Students are encouraged to utilize the robust services provided by the CCNY Career & Professional Development Institute.
Athletics
CCNY is a NCAA Division III school. Some Architecture students participate in a sport while enrolled at Spitzer, but due to the rigorous nature of the program and conflicting practice & game schedules, it can be difficult to partake.
The primary goal of the City College of New York Athletic Department is to provide an environment where student-athletes can excel academically, athletically and personally. The goals and objectives in the strategic plan reflect the commitment to excellence as the Athletic Department strives to fulfill its purpose in empowering student-athletes to develop into well rounded, responsible and mature leaders. Interested students should contact the CCNY Athletics Department for more information at www.ccnyathletics.com