Graduate Programs
Master of Architecture I
At flagship public school of architecture in New York City, we focus on design for the betterment of our shared global community. Programs are shaped by the diversity of our students, the inventive research of our faculty, and by multidisciplinary collaborations. We prepare students to become engaged designers and to apply an expansive set of skills to address pressing social, cultural, environmental, and professional challenges. With a rigorous foundation in the core competencies of building design, history, critical thinking, material assembly, structures, and urban analysis, and with an emphasis on agile thinking, our Master of Architecture program aims to educate the next generation of innovators.
Our graduates are largely employed in professional architecture roles, mostly in the New York City region, with opportunities are vast. They work in all types of firms and agencies: public and private sector; from small "boutique" firms to some of the largest firms in the world.
Students from all undergraduate backgrounds are welcome in the M Arch I program. The only prerequisites are one semester of both college-level precalculus and physics.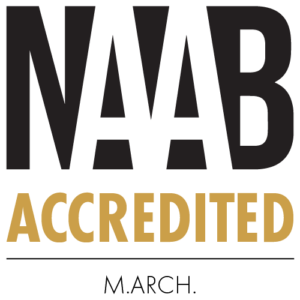 Accreditation
The Master of Architecture I program is accredited. See the NAAB section of this site for more information and links regarding accreditation.
STEM Designation
Both the M Arch I and MS Arch programs are listed within the U.S. government's official STEM fields list, meaning graduates with F-1 visas may be eligible for U.S. work authorization for up to three years. See the STEM OPT Hub for more information.
Total Program Credits: 108
Per-semester course load: 18 credits
(Change to 90 credits overall/15 credits per semester effective Fall 2024 is pending.)
First Year
Fall Term 1
ARCH 61001: Digital Techniques
ARCH 61100: Architecture Studio 1.1
ARCH 61201: Survey of World Architecture 1
ARCH 62301: Materials/Construction S
ARCH 73500: Site Design
Spring Term 2
ARCH 62001: Visual Studies
ARCH 62100: Architecture Studio 1.2
ARCH 62201: Survey of World Architecture 2
ARCH 61301: Materials/Construction L
ARCH 62401: Structures 1 - Introduction to Structures
Second Year
Fall Term 3
ARCH 73100 : Architecture Studio 1.3
ARCH 73201 : Survey of World Architecture 3
ARCH 71301 : Building Modeling
ARCH 00000 : Elective
Spring Term 4
ARCH 74100 : Architecture Studio 1.4
ARCH 74501 : Environmental Systems
ARCH 73401: Structures 2 – Design of Structural Elements
ARCH 85201 : Survey of World Architecture 4
Third Year
Fall Term 5
ARCH 85101 : Advanced Studio
ARCH 85200 : Design Seminar
ARCH 85300 : Advanced Computing
ARCH 85600 : Professional Practice
ARCH 74401: Structures 3 – Behavior of Structural Systems
Spring Term 6
ARCH 85101 : Advanced Studio
ARCH 85200 : Design Seminar
ARCH 00000 : Elective
ARCH 00000 : Elective
ARCH 00000 : Elective