Publications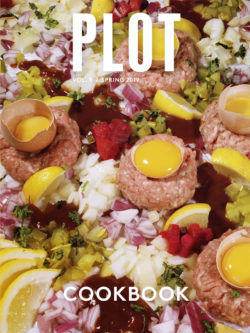 PLOT Volume 8: Cookbook
Student editors from the class of 2020: Sarah Dornner, natalie Galarza, Gabi Garcia, Alexander Kent, Cash Langford, Anna McKeigue, Katarina Medakovich, Rujuta Naringrekar
Featuring curated submissions by students, faculty, artists, and practitioners, PLOT Volume 8 explores the theme of COOKBOOK. The content of the issue is developed by the second-year MLA student editorial board in collaboration with faculty advisor Michael King and designer Isaac Gertman. Contributions to this issue reveal many rich interpretations of COOKBOOK, offering actionable recipes for redesigning our food (aka life-support) systems as well as construction details for coping with the effects of climate change. We are delighted to feature photographer Emma Ressel's Boef Tartare and Bacon Slugs as the cover and back cover, respectively. Bon appétit!
Cover: Emma Ressel, Beef Tartare from the series Insatiable Hunger and the Peacock's Plume
To request a copy, please contact Hannah Borgeson.
Blog