Student Resources
Architecture Library
Located within the Spitzer School of Architecture, the Architecture Library boasts over 36,000 volumes of books and periodicals. The Architecture Library provides limited audio-visual equipment and support for faculty and students currently enrolled in the School of Architecture program. Portable laptops, projectors, clickers, extension cords, and speakers are available during the library's regular hours of operation.  Instructors can reserve equipment in advance at the library circulation desk.
Architecture Research Guide for more in-depth assistance with architecture and related subjects
Selected Bibliography: Fall 2017 Lecture Series: "Transdisciplinary"
The Visual Resource Collection contains a large collection of digital and slide-based visual resources.
Featured collection: Spitzer Travel Fellowship Archive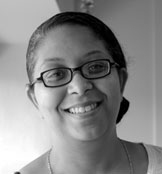 Nilda Sanchez-Rodriguez
Assistant Professor, Division Chief, Architecture Library
Phone: 212-650-8766
Office: SSA101
Architecture Library
Hours:
Spring 2018
Monday-Thursday: 10:00 a.m.-9:00 p.m.
Friday: 10:00 a.m.-6:00 p.m.
Saturday: 12:00 p.m.-5:00 p.m.
Sunday: Closed
Phone:
Location:
141 Convent Avenue
New York, NY 10031
Room: 101
Social Media: