Student Resources
Architecture Library
The CCNY Architecture Library is once again open to all CUNY students, faculty, and staff.
Below is a summary of our service changes for the Fall 2021 semester. If there are additional changes during the semester, they will be posted here.
Access to the Library
All CCNY Libraries are OPEN to fully vaccinated patrons. We no longer require reservations to use its various libraries on campus. Proof of vaccination is required upon entry. Patrons must comply with CUNY's mask mandate.
Reserve Items
Materials may have a loan period of 1 day (24 hours).
Reserve items may be used outside of the library (except for the CWE Library).
Reserve items MUST be returned to the Library circulation desk from where they were borrowed.
Fines will be charged for reserve items returned to a different library or put into a drop box — always return materials to a person behind the desk!
Calculators
Graphing and scientific calculators are available to borrow at Cohen, Science and Architecture.
Calculators are available for 1 day (24 hours).
Computer Lab (101C)
The Architecture Library has 13 available computers equipped with the latest architectural software for person use. These computers are designated only for students and faculty currently in the Bernard and Anne Spitzer School of Architecture programs and the Sustainability Master's program. (Open to fully vaccinated patrons)
Patrons using CCNY computers must abide by the CUNY Policy on Acceptable Use of Computer Resources. The full policy may be accessed at the following link:
http://www.cuny.edu/about/administration/offices/CIS/policies/ComputerUsePolicy.pdf
Overdue Library Books?  No worries!
All CUNY Libraries will suspend regular overdue fines and recall overdue fines. Reserve fines and lost item fines will remain.  Beginning March 14, 2020, City College patrons will be allowed 9 renewals.
Reference Services
Visit guide for more in-depth assistance with architecture and related subjects.
OneSearch
Provides access to eBooks, a massive index of articles, and more, all in one search result
Databases
Access the library's A-Z list of databases remotely, using your CCNY email credentials
E-Books
24/7 access to over 980,000 electronic books-view and download from anywhere.
Select: Art, Architecture & Applied Arts subject category
E-Journals
24/7 access to more than 118,000 electronic journals- view and download from anywhere
Select: Art, Architecture & Applied Arts subject category
Inter-Library Loan
ILL is available to process requests for copies of journal articles and book chapters. Book requests cannot be fulfilled during this time.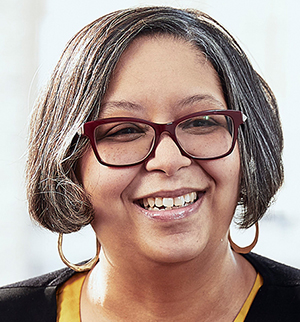 Nilda Sanchez-Rodriguez
Associate Professor, Division Chief, Architecture Library
Phone: 212-650-8766
Office: SSA101
Architecture Library
Hours:
Monday:          9:00 am – 5:00 pm
Tuesday:          Closed [Remote Only]
Wednesday:    9:00 am – 5:00 pm [Librarian on Site]
Thursday:        9:00 am – 5:00 pm [Librarian on Site]
Friday:             9:00 am – 5:00 pm [Librarian on Site]
Saturday:         Closed
Sunday:            Closed
Chat
Mon.-Fri.:        11:00 am-5:00 pm
Saturday:         10:00 am-2:00 pm
Phone:
Location:
141 Convent Avenue
New York, NY 10031
Room: 101
Social Media: