Faculty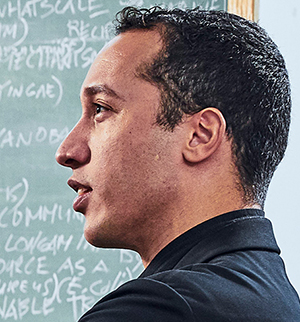 Educational Credentials :
M.Arch., Yale University, 2010
B.S. with Distinction, Knowlton School of Architecture, The Ohio State University, 2007
Teaching Experience :
Substitute Assistant Professor, City College of New York, CUNY, 2021-present
Adjunct Associate Professor, City College of New York, CUNY, 2019-2021
Adjunct Assistant Professor, Columbia University, 2017-present
Adjunct Faculty, Columbia University, 2013-2017
Adjunct Assistant Professor, Yale University, 2021-present
Initiating Member and Faculty, Dark Matter University, 2020-present
Adjunct Faculty, Barnard College, 2019-present
Adjunct Faculty, NJIT, 2017-2018
Visiting Assistant Professor, Pratt Institute, 2017-2018
Professional Experience :
BRANDT : HAFERD (Jerome W Haferd & K Brandt Knapp), New York, 2012-present
Jerome W. Haferd, Registered Architect, New York, 2017-present
Bernard Tschumi Architects, New York/Paris, 2010-2017
Harrison Atelier, New York, 2010
Office for Metropolitan Architecture (OMA), Beijing, 2009
Zephyr Architects, Beijing, 2008
NBBJ Design, Columbus, OH, 2007
ka architecture, Cleveland, OH, 2006
TC Architects, Akron, OH, 2005
Licenses/Registration :
Architecture License, New York State
Selected Publications and Recent Research :
Essays:

"Trans-Institutional Pedagogies," Yale Constructs (Winter/Spring 2021).
"An Archaeology of Architecture" Log 48 (Winter/Spring 2020).
"P.O.P.S.", MRPJ Movement Research Performance Journal 54 (2020).
With K Brandt Knapp, "Labeling Practice," Paprika! (February 2018).
"Notes on the Acropolis," Project 6 (Spring 2017).
"Make it Work: New Business, New Models (Interview)," Oculus (Winter 2016-17).

Lectures:

Talking Race + Architecture: A Teach-In," with Dark Matter University, Center for Architecture, April 2021.
"An Archaeology of Architecture," Historic Preservation Series, GSAPP, Columbia University, 2021.
"A Geography of Practice," School of Architecture, University of Minnesota, October 2020.
"UnDesigning Practice," Virginia Tech, September 2020.
With Mitch McEwen, "Junky Systems," December 2020.
"Short Talks," Knowlton School of Architecture, Ohio State University, 2020.
"Prototypes," Black Imagination Matters Symposium, Princeton University, 2019.
With K Brandt Knapp. "Collective-Scale," GSAPP, Columbia University, 2018.