Publications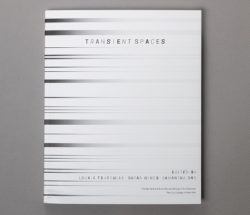 Transient Spaces
Eds. Loukia Tsafoulia, Suzan Wines, and Samantha Ong
Transient Spaces examines transience as a force of opportunity and resilience in the design of cities. The book includes contributions from such notable writers and thinkers as Michael Sorkin and Saskia Sassen. The project began from two Advanced Studios taught by Loukia Tsafoulia and Suzan Wines in 2017, and it has evolved into a curated collection of essays and projects about the impact that mass migration is having on cities around the world. Coeditor Samantha Ong B Arch '18 was a student in one of the studios.
The essays and proposals in this volume explore unconventional opportunities for cities to leverage conditions of impermanence in order to catalyze change, meet the needs of migrant populations, and foster sustainable urban development policies that benefit both host and guest communities more effectively. Mass migration is one of the most important urban issues of the 21st century. Increased border tensions and internal conflicts, compounded by environmental degradation, climate change, economic precariousness and identity anxieties, have created impromptu urban enclaves whose very characters and economies are defined by migration. Continuous flows of people leaving and arriving challenge architects and planners, governments and policy makers to create infrastructural systems and spatial fabric of unparalleled resilience and elasticity.
How do global cities of today cope with populations in continuous flux? What can cities do to leverage the human capital, intellectual potential and entrepreneurial capacity of migrants in order to revitalize local economies and repair their civic, cultural and physical infrastructure The sheer boldness required to undertake and survive such perilous journeys testifies to the courage and initiative that motivates so many migrants.
Transient Spaces is a project of interaction; a provocation to explore soft disciplinary borders and wider fields of knowledge. It is an exhortation to all nations, political leaders, planners, designers, and citizens of the world to open our minds and borders to the potential growth and prosperity that comes from interaction, integration, and innovation made possible by the exchange of ideas, culture, and expertise from beyond borders.
Transient Spaces is published by the Bernard and Anne Spitzer School of Architecture at The City College of New York, ISBN 978-1-7327395-2-9. For more information on Transient Spaces including how to obtain a copy, please visit http://transientspaces.tumblr.com or contact transiencespaces@gmail.com.
Blog