Profiles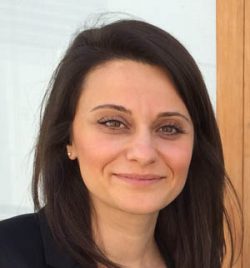 Ahu Aydogan Akseli
Assistant Professor Ahu Aydogan Akseli is an architectural designer and researcher focused on the development of building-integrated, bio-mechanical systems to "scrub" toxins from the air by integrating hydroponic-supported plant materials into HVAC systems.
What do you particularly enjoy about teaching at SSA?
I really enjoy the diversity at the SSA and the interaction between students and faculty. Students have a passion for learning and are very open to new ideas and research. I always try to see students' viewpoints; I think having a friendly and respectful atmosphere, along with transparent communication, is a major step in creating a successful learning environment.
What kinds of connections do you make between your professional practice and your teaching?
I define clear flows of information exchange between professional practice and interdisciplinary areas of inquiries. I address these concerns in my teaching by promoting technology as a means to design and develop sustainable systems, and examine the role of the architect in different societies. I try to provide examples from professional practice and show students the similarities and differences between being in practice and being a student.
How would you define the role of the architect today?
In my point of view there is no particular distinction among the role of architect, landscape architect, and urban designer. All the disciplines are interrelated and the desire in all of the disciplines can be defined as design towards an intention. The distinction can be related to the application of architecture.
How does your teaching help foster this role?
I always tell my students that architecture is not limited to the design of a building.  It requires an interdisciplinary approach, entailing knowledge of art, science, and technology as well as humanity. To help foster these goals, design and implementation of different scales, Micro-Meso-Macro levels needs to be considered.
What have you learned from SSA students?
What I really like most is to observe different points of views from SSA students when we discuss topics. The students all have different perspectives and problem solving techniques. Sometimes, I have never thought of the questions and issues raised by the students. This has showed me that there is always more to learn, keeping me energetic and on my feet.
Blog