Profiles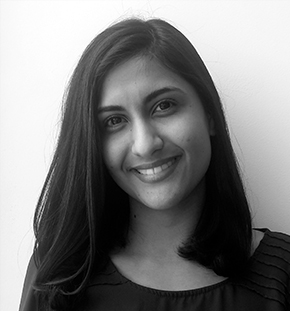 Mitalee Chawda
Mitalee Chawda (class of 2016) is a student in the M.Arch. Program
Why did you choose SSA?
I chose SSA because its M.Arch. Program is unique in comparison to other programs in the region. Its curriculum offers a stimulating combination of conceptual and technical approaches in a pertinent urban setting, while maintaining affordability and accessibility.
Where are you from?
I grew up in Westchester, NY but was originally born in India and moved to the US with my family at a young age. Growing up close to a large metropolis heavily influenced my career aspirations by provoking my interest in the built environment.
What were you doing before you began your studies at SSA?
With a desire to pursue both science and art after high school, I moved to Manhattan to begin a Bachelors degree in engineering. I quickly realized that was not the right fit for me! That was when I transferred to an undergraduate architecture program that allowed me to express creative control while retaining the technicality I sought. Upon graduation, I worked full-time for a year at an architecture firm in the city.
What's the favorite project you've worked on at SSA?
My favorite studio project so far is the urban housing studio with Professor Fabian Llonch, where we are designing a master plan and housing complex for a site in Brooklyn. This project is important because it requires thought on an urban scale and weighs social, cultural, and physical conditions to create a site specific and humanistic approach to planning.
What other activities are you involved in?
Outside of school, I work at a firm that specializes in exterior and façade restoration. Additionally, I am VP of the Graduate Architecture Club, and a member of the Architectural League of New York. In my free time, I like to run, read, and travel.
What is something unexpected that you have learned at SSA?
In our classes, we are always encouraged to travel and explore works of art and architecture in person. Students of the school also receive free admission to many cultural institutions across the city, which have become invaluable to my academic and personal growth. For example, the Uneven Growth exhibition at the Museum of Modern Art gave me insight into how collective housing can help curb profit-driven development in large cities, and how architecture can empower communities to be in control of their own homes. This impacted how I am designing my housing complex this semester by making me re-think the conventional uses of public and communal space, and how these spaces can be productive for residents.
Blog