Publications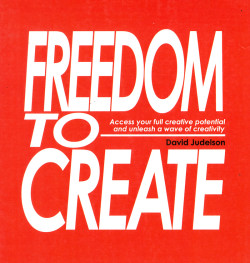 Freedom to Create
Access your full creative potential and unleash a wave of creativity
David Judelson
Are you looking to expand your ability to create? Don't believe you're "the creative type" Do you dream about being free to just make your ideas happen? Have you hit a dead end or been gripped by a creative block and can't seem to get yourself out of it? Whether you consider your creativity limited or just want to find new directions in which to create-this book was written expressly for you. Inside you'll find:
Exercises to unlock your creative energies
Conversations that can help you look at things differently
Ideas for operating effectively in larger worlds of expanding possibilities
Insights and practical approaches to the familiar phrase "thinking outside the box"
Use this book to access new concepts and solutions as you examine your creative process, open a deeper connection to your own creative powers and reveal your potential to release a powerful wave of creativity into the world.
Blog