Profiles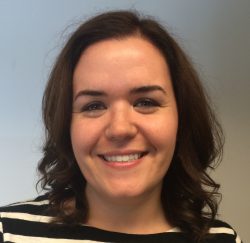 Elizabeth Christian
Elizabeth Christian (class of 2017) is a student in the M.Arch. Program.
Why did you choose SSA?
I heard of SSA initially by word of mouth. It has a great reputation, and I know many people who have studied here and are doing great things. There's a balance between theory and practice that was very important to me. There's also a very New York vibe here; it's high tempo, diverse, and has a history but is very modern. The skyline is right out the window, so you can't help but stay motivated in this environment.
Where are you from?
I'm from the small suburb of Green Brook, New Jersey. It's the sort of place where it's taken for granted that you'll end up in New York eventually, and here I am.
What were you doing before you began your studies at SSA?
My road to SSA has been winding. While I was studying abroad in Frankfurt, Germany as an undergraduate student, I became interested in historic architecture and how it mixed with modern design. Upon graduation I decided to pursue that interest and went onto obtain an MSc in Conservation of Historic Buildings in the UK.  After working in preservation for a couple of years in the US, I had a bit of a quarter life crisis, moved to London and spent a couple of years there working at a university.  In 2013, I decided to return to the US and get my M.Arch.
What's the favorite project you've worked on at SSA?
My favorite project so far was our final project for first semester studio for Professor Bradley Horn. Everyone first had to choose an animal to research and study closely.  We were then given a thin strip of New York from the West Village to Newtown Creek as a site and told to design an intervention that would provide a habitat for the animal in the not too distant future. Because we didn't know the site or the program prior to choosing the animal, there were some really interesting collisions – sea lions in the Hudson, hippos in Newtown Creek. I ended up designing an underground treadmill greenhouse for army ants on Christopher Street, and I really fell in love with it.
What other activities are you involved in?
I work part time at a large firm in midtown, which is very rewarding. There isn't a day that goes by where I don't see my work there adding value to my work at SSA and vice versa. Between that and my coursework, there isn't a ton of free time left over, but I try to achieve balance.
What is something unexpected that you have learned at SSA?
There's a lot of triage thinking required if you're going to succeed in a program of this intensity, so you need to prioritize ruthlessly and be able to think in multiple scales simultaneously. Seeing what matters in the big picture and where detailed attention will deliver the most reward is absolutely essential. There's that devastating moment at 4 A.M. when you realize the 3 hours of post-processing detailing you've been doing on a portion of your rendering is totally invisible at full size and thus a complete waste of time; but that's just part of the learning curve!
Blog