Profiles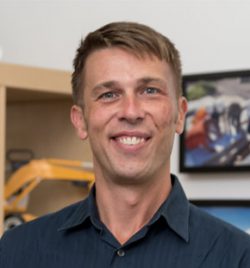 Damon Arrington
Damon Arrington graduated from the MLA Program in 2016
Why did you choose SSA?
Living in Red Hook during Hurricane Sandy was eye opening. Watching the waters consume my neighborhood shook me to the core. After the storm I knew that a career in Landscape Architecture could guide me in the steps necessary to help protect and educate my neighborhood. Future storm surges are inevitable, but now I am equipped with a vocabulary that is based in systems thinking. I wasn't leaving NYC, so City College was the only option for me. The tuition at City College was also a big draw, since it was the most affordable for my budget. The big plus was that the faculty was top notch, the support of the full time faculty was so refreshing, their investment in my future was evident from the beginning.
What's the favorite project you worked on during your time at SSA?
My travel studio to Detroit in my third year was the most pivotal project in my time at SSA. We spent four days touring abandoned buildings and burned out neighborhoods. Once complete we were prompted to write a play based on our experiences. This was a delight for me, coming from a theatrical background the assignment inspired the artist inside the architect. The play guided my design choices. I designed a remediation field around Fisher Body Plant in downtown Detroit. Inviting water and phyto-remedation to work together, encouraging a slow ecological healing to occur. Gangways and platforms were inserted throughout the detritus to encourage residents to participate in the process.
What have you been doing since you graduated from SSA?
Since graduating in May 2016, I have been hired at Siteworks. The construction management firm works on high profile projects across NYC. Currently I am working on The Hills at Governors Island. The designers on the project are West 8 and Matthews Nielsen, who I have been working closely with throughout the final phases of the project. In December, I will be moving to our next project which is currently titled, East Side Resiliency, which is a part of the BIG U: a huge sea wall project meant to protect lower Manhattan from rising sea levels. I am also continuing the work on the play I began writing in my Detroit studio. The play just received a workshop at Soho Rep with a cast of four. This fall I will be presenting a staged reading at CCNY for the ASLA student chapter. It is so refreshing to be able to merge my two passions: architecture and the arts.
How did SSA prepare you for your current position?
Every class, every professor, every assignment prepared me for my current position. There isn't a single class or technique I don't find useful. Keep extremely meticulous notes, they will come in handy. Spend a ton of time on your portfolio, since it will help you sell yourself. The Professional Practice class was one of the most helpful classes; I still refer to my notes. I even bring them to work…
What advice do you have for current SSA students?
My advice to current students is to tackle assignments the minute they are assigned. Don't wait. Drawing takes time, don't put yourself into a position where you have to do something last minute. It will show. Also, sleep before your presentations. Don't pull all nighters when you have to present the next day. Make sure you give yourself a relaxing morning before final presentations. Remember, you are your own salesman. Sell your ideas with clear and precise bullet points. Connect with your audience, don't just stare at the wall. Make sure you write your presentation down on notecards and then practice. Never just wing your presentation.
Blog