Profiles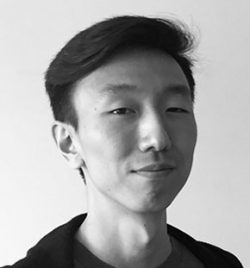 Solomon Oh
Solomon Oh (class of 2018) is a student in the B Arch Program.
Why did you choose SSA?
As the only public school of architecture in New York City, SSA is a unique institution pedagogically and in terms of diversity. I believe the tendency for architecture schools to be exclusive compounds an already isolated culture from experiencing the breadth of perspectives that can hopefully influence the practice.
Where are you from?
I was flown in the womb from Korea to be born in the capital of the U.S., then grew up between Illinois and New York. As an adolescent in Illinois, I encountered many of my major influences for taking an interest in design. My neighbors included an artist for scale model manufacturer Revell, a muscle car enthusiast, bowling alley with a great arcade, and a hidden path through a grove leading to the forest.
What were you doing before you began your studies at SSA?
I most recently worked as a graphic designer and illustrator and graduated from Pratt Institute from where I earned an Associate's Degree in these fields. I was recommended by some professors to check out architecture, which led me to SSA.
What's the favorite project you've worked on at SSA?
The first assignment of my second year studio with Professor Frank Melendez focused on the creation of a book wall. From such a seemingly simple precedent there was the challenge of "re-inventing the wheel." The guidance of Professor Melendez in finding forms through various analyses resulted in the arrival to the unexpected. This experience revealed to me the possibilities of architectural investigation.
What other activities are you involved in?
I am currently the AIAS Media Chair whose role involves directing the visual style of the organization's communications. Other academic responsibilities include coordinating and editing the school's annual student works publication, CityWorks. I take photos in my spare time as well as professionally. I am also passionate about current trends in computing.
What is something unexpected that you have learned at SSA?
I learned that design—as well as most things in life—are never straightforward; the more winding the path the better. If the road was too easy then you haven't taken the right one.
Blog