Profiles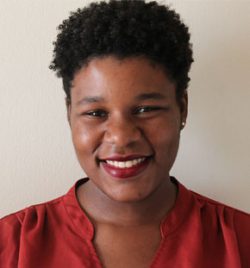 Christina Corinne Bien-Aimé
Christina Corinne Bien-Aimé  (class of 2017) is a student in the B Arch Program.
Why did you choose SSA?
I chose SSA because of its location in the city, in Harlem, a neighborhood with such rich history; for its great architecture program with an unbeatable tuition; and for its extremely diverse student body. I think by now I have more friends from different parts of the globe than I have Haitian friends.
Where are you from?
I'm from Port-au-Prince Haiti. I went to the same all girls Catholic school Sainte Rose de Lima from 1st to 10th grade before I moved to New York 6 years ago, after the devastating earthquake of 2010, to finish my school.
What were you doing before you began your studies at SSA?
Before SSA I attended Hillcrest High School in Jamaica, Queens for two and half years where I enrolled in the very middle of sophomore year. Imagine the quiet girl, who barely speaks English, sitting in the cafeteria by herself, in a co-ed school for the first time. That was me. I had my history teacher tell me, following a presentation my senior year after having me in his class for two consecutive years, that he was convinced I didn't speak a word of English the first time I entered his class because I was always so quiet.  Senior year I joined the honors society committee which allowed me to open up more and be a little more involved within the school's community.
What's the favorite project you've worked on at SSA?
My favorite project was the urban living project in the first semester of my third year with Professor Christian Volkmann. It was the first project where we had to design "a real building," and got to understand what actually goes into that process. From the site analysis, understanding the context and the opportunities it can create in terms of the program, to the very wall section, we learned how materials come together to create the space and the negotiation between public and private.
What other activities are you involved in?
I currently work part time with a construction firm in concert with an architecture firm as a Junior Contractor, which is an extremely rare opportunity. It's exposing me to a side of the field that is not always emphasized in school. I'm also involved with our AIAS chapter for which I was both Vice President and President in the past. I worked with the J. Max Bond Center on their Design for the Just City research, and on their investigation into the reasons behind the lack of diversity within the architecture field.
What is something unexpected that you have learned at SSA?
After four years, I can really say that the whole architecture school journey was unexpected. I learned about what it meant to be part of a community, how to be a designer, a student, a leader, an activist and, in the process, I learned more about myself and the type of architect I want to be. I got into architecture because my dream is to be able to go back to Haiti to be part of the reconstruction process. Being in SSA with such an incredible opportunities and people, I feel like I'm getting more and more equipped to reach my goal.
Blog