Profiles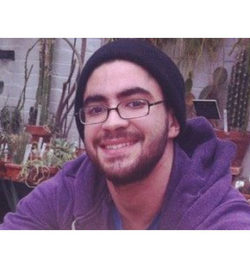 Uziel Crescenzi
Uziel Crescenzi (class of 2019) is a student in the MLA I program.
Why did you choose SSA?
SSA offered me a chance to study landscape architecture in the city I call home. Being at City College for part of my undergrad education, I was already familiar with the campus and area.
Where are you from?
I am from a neighborhood in the northwest part of the Bronx called Riverdale.
What were you doing before you began your studies at SSA?
I studied plant science at SUNY Cobleskill and completed internships at the Arnold Arboretum and Wave Hill Botanic Gardens and a horticultural position at AeroFarms.
How did the winning EPA RainWorks Challenge entry come about? What were your contributions to that interdisciplinary project?
Winning the EPA competition began with a call from a friend of friend, Lawrence Vulis, a student at CCNY's Grove School of Engineering. He brought me in on the project where my background in plant science, ecology, and design complimented the team's environmental engineering skill set.
What's the favorite project you've worked on at SSA?
The EPA RainWorks Challenge is my favorite project so far. It allowed me to collaborate and learn from students with different disciplinary skills, and gave me the chance set my own priorities as a designer.
What other activities are you involved in?
This summer [2017] I will be working as a field biologist for the Natural Areas Conservancy in New York City.
What is something unexpected that you have learned at SSA?
This program has given me a new lens to view my environment and new skills to represent and understand them. I did not expect learning GIS to be such an incredible and powerful tool that I am excited to learn more about.
Blog