Profiles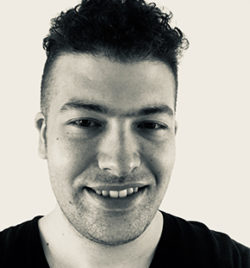 Patrick Monte
Patrick Monte completed the SSA's Summer Career Lab in 2013.
Why did you choose the SSA's Summer Career Lab?
I chose the SSA's Summer Career Lab because I was considering pursuing a graduate degree in architecture to expand my art practice and explore career options in design. I wanted broad exposure to architectural education and practice. The immersive studio environment and variety of lectures and firm visits gave me perspective on my next career moves as well as key skills and portfolio items that aided me in the process.
What was your favorite project from that summer?
My favorite project was our studio project, a museum that had a challenging set of requirements and gave me a chance to dive deep into 3D-modeling software, which was very new and exciting.
Where did you go on to study after the Summer Career Lab?
 After attending the Summer Career Lab, I began working as an intern for Openshop Architecture. The principal architects there gave me support and advice on building my portfolio and applying to graduate school. The next year I enrolled in the Master of Architecture program at California College of the Arts in San Francisco, where I received my degree in May 2018.
 Where did you go on to work?
 My foray into architecture opened up a lot of opportunities for me not only as a designer but also as an artist and educator. Throughout my time as a graduate student I have gained a diversity of experience through design work in architecture, landscape, interior, and metal fabrication studios in San Francisco and Berlin. I was a 2014 and 2016 artist-in-residence at Liebig 12 in Berlin. In 2018, "Anomy, for U.S. News," a media art work I co-produced with Vienna-based composer Brian Questa, was displayed on a large-scale public media facade at Daegu Station for the 2018 International Computer Music Conference in Daegu, South Korea. Additionally, the work received "Official Jury Nomination" at the 21st Japan Media Arts Festival (2018). In April 2018, I presented my master's architectural thesis on the 2013 Bingham Canyon Mine Landslide at the San Francisco Museum of Modern Art for the 2018 Berkeley-Stanford Symposium "A Line in the Sand: Art, Ecology, and Precarity." Currently, I am pursuing independent projects and working as a Digital Technologies Consultant at the Spitzer School of Architecture.
What current developments in the field do you find the most exciting?
I am most interested in how digital technologies are enabling us to reformulate our conceptions of history in relation to architecture. Augmented reality, digital 3D modeling, acoustic and olfactory simulation, and new video analysis techniques all open up possibilities for layering our experience of space in ways that question common notions of architecture. Some of the people I find most interesting working in this realm are David Gissen and Irene Cheng, who I studied with in San Francisco, Forensic Architecture and SITU, whose work has had significant political implications, and also people, like Philippe Rahm, who explore these issues through a phenomenological approach.
What advice do you have for those who are considering joining the Summer Career Lab?
My experience with architecture is that if you leap in and give it your all, great and unexpected things will happen. If you are considering joining the Summer Career Lab, my advice would be to jump.
Blog