Profiles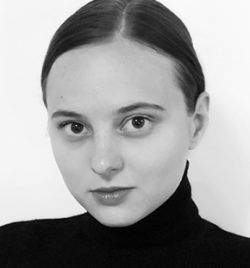 Victoria Graziano
Victoria Graziano graduated from the B Arch Program in 2018
Why did you choose SSA?
SSA's initial appeal came from its location in New York City, its highly praised accredited B Arch program, and its affordability. Its diverse faculty, staff, and student body offered a broadness of perspective that I found refreshing. Additionally, the small size of architecture studios fostered an intimate community of passionate faculty and students.
What's the favorite project you worked during your time at SSA?
One of my favorite projects was Professor June Williamson's rapidTYPING studio project for which I received a 2019 SARA-NY merit award. The studio focused on revitalizing a suburban site through developing middle-scale typologies. My project proposed repairing the suburban fabric of the Sears mall in Hicksville, New York, by adding programmatic, spatial, and environmental diversity.
Having to churn out a building type each week, I was definitely challenged by the speed of the studio. It taught me to make decisions quickly, a skill needed in the workplace. I also enjoyed working at difference scales: the scale of the house, the lot, the street, and the neighborhood. It taught me to think of architecture not only as a single building but as an entity that helps shape the urban landscape.
What have you been doing since you graduated from SSA?
Since graduating, I have been working for a firm that mainly designs multi-family residential projects with a focus on affordable housing. Since there is a need for this type of housing, I am glad to be contributing to this realm.
What current developments in the field do you find the most exciting?
I am excited to be practicing at the time of environmental awareness with its emphasis on sustainability. The use of local materials and building techniques, integrating passive and active strategies, are some developments that interest me. Additionally, I am grateful for the increasing inclusivity of the profession, which gives me the opportunity to practice architecture as a woman.
How did SSA prepare you for your current position?
Throughout my five years at SSA, I was exposed to various types of design challenges and I was encouraged to constantly inquire, learn, and develop new skills. In my current position, I find myself constantly needing to grasp new knowledge and apply it on the spot. Therefore, the most important skill I developed at SSA was learning how to learn and how to keep an open mind.
How do you stay involved with SSA?
I have attended alumni events and I am hoping to attend more to stay involved with the SSA community.
What advice do you have for current SSA students?
Design with the "why" in mind and put in a lot of work. From my experience, the more work I put it, the more I got out of each project. Design is largely a trial and error process. The more attempts you make, the more you will learn.
Blog