Publications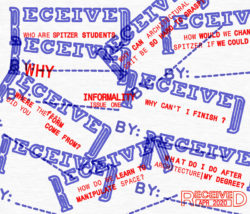 Informality
Mohammed Gueye - Editor
Students at Spitzer have relaunched informality, a publication based on the work, experiences, concepts, and the raw process of the undergraduate class.
"We are rebooting Informality through a biographical investigation into the school. Who are we? Where are we? Where are we going? What do we do? Where were we going? What will we become? Strap in and enjoy."
Read it online here.
To receive updates on coming issues, join the mailing list
For more information, please contact informalitybyus@gmail.com
Blog