Profiles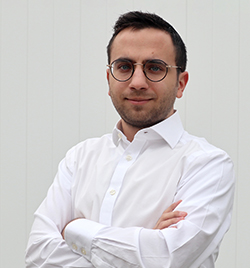 Benjamin Akhavan
Along with receiving a Bachelor of Architecture with a concentration in Architectural History and Theory from Spitzer, Benjamin Akhavan has been named one of CCNY's Great Grads of 2020.
Akhavan's parents came to the United States as political refugees during the Iranian revolution in search of an inclusive way of life. As a Jewish-Iranian American, Akhavan's culture inspired him to pursue architecture a The City College of New York.
"City College has given me the confidence to excel," said the Macaulay Honors College student. "I've been caught between languages and cultures, and I chose to study architecture because of its ability to transcend borders – both literal and cultural."
He maintained a 3.9 GPA while balancing school work, a two-hour commute, extracurricular activities and a part-time job as an assistant designer for Exhibition Design & Production at the Musuem of Modern Art (MoMA). He also served as president of the CCNY chapter of the American Institute of Architecture Students, as student liaison to the Architectural Alumni Board, and as a teaching assistant for advanced architecture courses.
"With every challenge, there is opportunity. As the first in my family to pursue a design degree, I had to learn how to navigate the unique structure of architecture school," said Akhavan. "That propelled me to reach out to friends, advisers, and professors, which allowed me to create lifelong relationships and discover new mentors where I otherwise would not have."
Akhavan pursued study abroad in architecture at the Technion-Isreal Institute of Technology, Haifa, Isreal, and more recently, he co-founded Future Architects of the Middle East, an organization fostering dialogue concerning Middle Eastern architecture.
He has been awarded the Sciame Design Scholarship and will attend Columbia University's Graduate School of Architecture, Planning and Preservation, in pursuit of a Master of Science in Advanced Architectural Design. He would like to teach architecture someday and open a design practice that can positively contribute to the built environment.
Photo and article provided by CCNY's Great Grads of 2020.
Blog