Profiles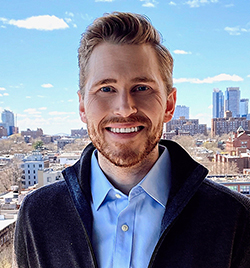 Daniel "Cash" Langford
Along with receiving a Master of Landscape of Architecture degree from Spitzer, Daniel Langford has been named one of CCNY's Great Grads of 2020.
Growing up on a farm in rural Texas, Daniel "Cash" Langford was fully expected to take over the family business – cotton and peanut farming.
After receiving his bachelor's in agriculture and applied economics at Texas Tech University, Langford spent time learning farm operation and designing sub-surface irrigation. Feeling unfulfilled, he decided to pursue his passion for landscape architecture, moving from his hometown of 2,000 to his dream city, New York.
Langford sought out City College to learn how to apply his knowledge of rural landscape systems to a city scale. One of his first studio projects aimed to reintroduce the rural microbiome to areas of New York lacking in beneficial bacteria that we encounter when interacting with farm animals, like goats and sheep. Cash continued to incorporate his rural background into his studies by completing his final design studio on "Pointillist Prarie: Playa Lake Restoration in the Great Plains."
Through his research on playa lakes, Langford wants to provide strategic recommendations for restoring playa lakes to increase habitat and aquifer recharge in an increasingly arid landscape.
Living and studying in New York City allowed Langford to broaden his horizons in academics as well as his community serving as Chair of Intersectionality with the ASLA Student Chapter; organizing Queer Ecologies, a panel to discuss inclusivity and anti-oppressive design, and ArchiteXX; a moderated panel that aims to recognize how designers are improving racial and gender equity in their projects and careers.
After graduating, Langford plans to continue his apprenticeship with the Urban Design Unit at the New York Department of Transportation where he has been learning how to create public space opportunities in the public right-of-way under and adjacent to elevated transportation structures. From there, he is interested in pursuing a career in landscape architecture focused on creating public landscapes that integrate natural systems to be more resilient spaces in the era of climate change.
"'Design is not linear.' I heard this on the first day of studio and numerous times during my time at City College. This has turned into a mantra of mine that has helped rationalize my past and provide perspective when setbakcs arise."
Photo and article provided by CCNY's Great Grads of 2020.
Blog