Publications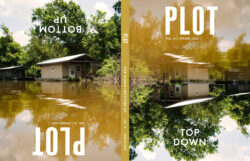 PLOT Volume 9: Top Down Bottom Up
Student editors from the class of 2021: Kayla Conroy, Brandon Loo, Catherine Priolet, and Jeffrey Schneider
PLOT is the annual landscape journal edited by the graduate landscape architecture students of the Spitzer School of Architecture. The ninth volume examines "Top Down Bottom Up" — terms used in a variety of fields to describe strategies of knowledge ordering and information processing. These expressions have shifted from conceptual use in scientific and humanistic theories into real strategies describing the application and practice of design, thinking, leadership, and resistance. Grassroots organizing or authoritarianism? Break down the system into its parts, or build up its complexity from small base elements or "seeds"? Revolution or reform? Landscape architects traffic in both seeds and systems — each of these approaches provides a better understanding of messy οικολογία, our "household of nature." Top down or bottom up? Admittedly, it's a false dichotomy. Is one strategy more likely to succeed? Or should we disband this axis entirely and address lateral moves, side-askance glances, and inside-out inversions? More timely than the editorial team ever expected, this issue also addresses impacts and responses to the SARS-CoV-2 pandemic and the Black Lives Matter global uprising.
Isaac Gertman of the Independent Group is the designer; the work of photographer Virginia Hanusik graces the cover.
To request a copy, please contact plotjournal@gmail.com.
Blog