Profiles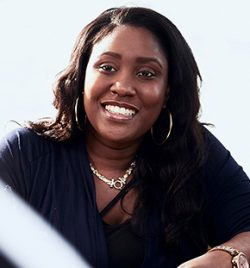 Staff Spotlight: Taida Sainvil
This interview was led by Sarah Cohn on December 2, 2020, and first published in the library newsletter. 
Taida Sainvil is the Library Coordinator at the CCNY Architecture Library at Spitzer.
She started at the library in 2009 as a work-study student, and has been here ever since. After she graduated from CCNY in 2014 with a bachelor's degree in anthropology, she moved into her current position as Library Coordinator. In this role, she is responsible for ensuring the library runs smoothly. She trains, manages, and schedules all the part-time staff and student workers in the Architecture Library. Because of her long experience at the library, she has done all of the job duties that the staff she manages does. Everything she trains the student workers to do, Taida can do as well, from fixing the plotter to handling textbooks on reserve. Taida excels at the job of Library Coordinator because of her people skills, quick intelligence, and organizational abilities.
In addition to the day-to-day management of library staff, Taida helps students and faculty with research questions, attends School of Architecture meetings as the library's representative, and works closely with Architecture Librarian Nilda Sanchez-Rodriguez. Taida is now considering a master's degree in public administration.
The following is from my interview with Taida. Answers have been edited for clarity.
Tell me a little bit about yourself.
I grew up right on the Queens border, in Elmont, Long Island. I still live there, now with my husband and two kids, Faith (5) and Isaiah (1). Both of my parents are from Haiti, so I'm a first generation American. I am fluent in Hatian Creole, and speak a little bit of French. In high school I was really focused on the sciences, and came to CCNY with the intention of becoming a Biomedical Engineer. After several semesters in the program, I realized that engineering was not my calling, and instead switched to anthropology. I was really drawn to it, it's such an interesting field. My concentration within the major was in medical anthropology, which is a combination of science and anthropology.
What is your favorite part of your job?
The people I work with! Nilda is great to work with; she is a supportive mentor and her presence makes it easier to get through the day. We also have a core group of part-time staff who are kind and competent. Having good coworkers, people who you can trust, is really what makes working at the Architecture Library such a rewarding experience.
What is something that you want people to know about the Architecture Library?
This is for when we're back on campus, but I want people to know that anyone can visit and use the Architecture Library! Anyone can use the entire Architecture building! Sometimes people are under the impression that we are only open to the School of Architecture students and faculty, but that isn't true. If you have a valid ID from CCNY or from any CUNY campus, you can use the building. There is a little cafe, a gallery, and the library — all great spaces for the CCNY community.
Where is someplace you'd like to travel to and why?
Haiti. Both of my parents are from Haiti and yet I've never been there. My mom came to the United States at 21, and has never been back, although my dad has been back a few times since he emigrated. I keep in touch with some of my cousins online, but I'd like to visit my family there in person, and enjoy the country where my ancestors are from.
What are your top 3 favorite fruits?
Mango
Pineapple (I'm allergic, but I love it anyway)
Grapes
Can you recommend a book, TV show, movie, album, or podcast?
My favorite book is Outliers: The Story of Success by Malcolm Gladwell. I'm currently reading Just Mercy: A Story of Justice and Redemption by Bryan Stevenson. I watched the movie and it inspired me to read the book. The book is less narrative, and gives more of a lawyer's view than the movie, but I'm enjoying it.
Thanks Taida!
Blog