Publications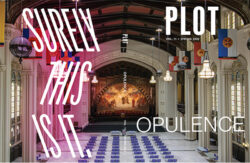 PLOT Volume 11: Opulence
Courtney Behrens, David Smucker, Samuel Syrop
Faculty Editor: Michael King; Student Editors: Casey Breen, Charlie Caccamo, Soha Farooqui, Matt Garczynski, Jordan Greenblatt, and Tucker Schnaars
Featuring curated submissions by students, faculty, artists, and practitioners, PLOT Volume 11 explores the theme of OPULENCE. This year's faculty editor Michael King, along with debonair and dapper student editors — Casey Breen, Charlie Caccamo, Soha Farooqui, Matt Garczynski, Jordan Greenblatt, and Tucker Schnaars — have assembled rich material with flair! What could be more decadent in these precarious times than to consider all things palatial, resplendent, and lush?
With the long-awaited return to the classroom this past year, the editorial team invited a talented recent graduate with an exceptional eye for photography to capture the opulent beauty of the City College campus and its buildings. The exquisite photography of Brandon Loo, MLA Class of 2021, is seen throughout this issue and graces its cover, with his image of the magnificent details of the Great Hall — the palatial room within George B. Post's 1907 neo-gothic Shepard Hall — and its massive Edwin Blashfield mural, "The Graduate."
PLOT is the annual landscape journal produced by City College's second-year MLA students with support provided by the Bernard & Anne Spitzer School of Architecture Fund. To request a copy, please send your mailing address address to archgrad@ccny.cuny.edu.
Cover: Brandon Loo MLA '21.
Blog