Publications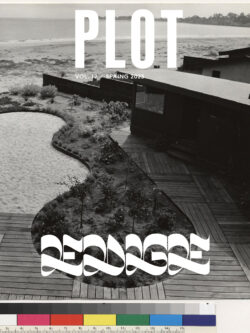 PLOT Volume 12: Edge
Faculty Editor: Michael King; Student Editors: Courtney Behrens, David Smucker, and Samuel Syrop
Featuring curated submissions by students, faculty, artists, and practitioners, PLOT Volume 12 explores the theme of EDGE. This year's shark-toothed faculty editor Michael King, along with our sharp and superfine editors Courtney Behrens, David Smucker, and Samuel Syrop, have assembled a selection of edges and edgy thinking, places perhaps farthest away from the center of things.
The outer limit of PLOT, of course, is our cover, wrapped with Thomas Dolliver Church's Martin Residence garden in Aptos, California. The garden opens to the Pacific Ocean, one of the edges of the continental United States. Edges emphasize and celebrate the tension between the continuous and flowing forms of the beach and the orthogonal and rectilinear orderings of architecture. One edge is a sinuous line separating the vegetation from the sand zone, while the other is an articulated deck mediating the house with its environs.
PLOT is the annual landscape journal produced by City College's second-year MLA students with support provided by the Bernard & Anne Spitzer School of Architecture Fund. To request a copy, please send your mailing address to archgrad@ccny.cuny.edu.
Cover: Charles O. Martin Residence, Aptos, California, 1947–1948. Photo: Rondal Partridge.
Blog