Profiles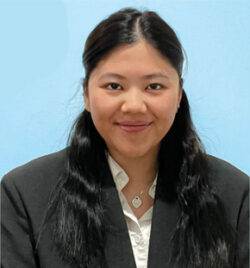 Xiao Lin Wang
Along with receiving a Bachelor of Architecture degree from Spitzer, Xiao Lin Wang, has been named one of CCNY's Great Grads of 2023.
Xiao Lin Wang, a graduate of Brooklyn Technical High School, was skeptical attending college in New York City. She thought she knew everything about the city in which she had lived since she was a young child. As the daughter of immigrant parents from China, and the first generation to attend college, she found that there was much to be gained by staying home. Confronted with new meanings and perspectives and exposure to different histories and cultures, she said that her time at CCNY shaped her into "a better leader, advocator, and an overall more open and compassionate designer and individual." Advocacy led to her involvement with the American Institute of Architecture Students (AIAS), of which she is now chapter chair, as a liaison with professionals. She also served as a member of the Mentorship Committee in the National Organization of Minority Architecture Students (NOMAS).
Her internships were varied, from 3XN Architects, and Shawmut Design and Construction, to the New York City Department of Buildings and the Design Alliance. Her accolades included being on the team that placed third in the 2021 APT PETC Masonry Arch Design Build Competition, the Melendez Architectural Scholarship, the Castagna Architectural Scholarship to study abroad in Barcelona, the Concrete Industry Foundation Scholarship, the HOK Diversity x Design Scholarship, the Professional Women in Construction Scholarship, the AIA Queens Foundation for Architecture Scholarship, and the WX Scholars Program Scholarship. Upon graduation, she is still deciding what to do: work at Shawmut Design and Construction, attend Columbia University's Graduate School of Architecture, Planning and Preservation, or both.
Blog