Lectures
Christian Volkmann
About Some thing
Wednesday, Jul 29, 2015
Sciame Auditorium (Room 107)
141 Convent Avenue
New York, NY 10031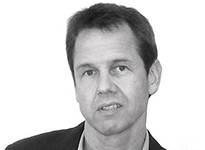 Christian Volkmann has been teaching at the City College of New York since 2005. He became a Full-time Professor in 2008. He currently coordinates the 3rd Year Undergraduate Design Studio and the Technology curriculum for both Undergraduate and Graduate programs.
Christian graduated with a Master's degree in Architecture from the Swiss Federal Institute of Technology Zurich (ETH). Before that, he studied at the Technical University Berlin (TU). He established his own firmaardvarchitecture in New York City in 1998. Before, he worked for architects including Josef Paul Kleihues (Berlin/Germany), Mario Campi & Franco Pessina (Lugano/Switzerland) and Annabelle Selldorf (New York). He has worked on multiple projects in Switzerland, Germany, Austria and the United States.
Christian was an Adjunct Professor at the Rhode Island School of Design from 2001-2008. His main pedagogic focus is on the integration of technical and environmental topics and skills into the design process. He has taught and developed several pedagogic concepts, which draw particularly upon the implementation of design-build processes and comprehensive design strategies within the curriculum and practice.
He is the Program Director and Architect of Record of City College's Solar Roofpod, which returned to our school's roof in 2014. This Net-Zero-Energy house was part of the Department of Energy's 2011 Solar Decathlon. It was exhibited on the National Mall in the fall of 2011 and will now be used as classroom, learning lab and event space for our College.
Through his teaching, practice and research in the area of integrated design, he has engaged in several interdisciplinary collaborations for energy-efficient buildings, building systems and renewables integration. He is a member of the Society of Building Science Educators (SBSE) and the Building Technology Educators' Society (BTES). He is a registered architect in New York State and practices in New York City.
Blog