Events
Fall 2021 Sciame Lecture Series: Elke Krasny
Realities of Care: On Interdependence in Architecture
Thursday, Oct 21, 2021
6:00 pm - 7:00 pm
Online - Zoom meeting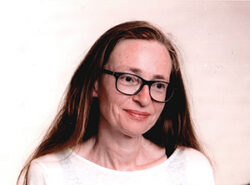 Please join us for the new SCIAME Lecture Series, titled Architectures of Care. "Realities of Care: On Interdependence in Architecture" will feature Elke Krasny.
Free and open to the public -- please register here for this Zoom event.
Elke Krasny is Professor for Art and Education at the Academy of Fine Arts Vienna. She is a feminist cultural theorist, urban researcher, curator, and author. Krasny's scholarship addresses questions of ecological and social justice at the present historical conjuncture with a focus on caring practices in architecture, urbanism, and contemporary art. Together with Angelika Fitz, she edited Critical Care: Architecture and Urbanism for a Broken Planet (MIT Press, 2019). Her forthcoming book Living with an Infected Planet: Covid-19 Feminism and the Global Frontline of Care develops a feminist perspective on imaginaries of war and realities of care in pandemic times.
Series Theme -- Architectures  of Care: In a world riven by inequality and indifference, care-work has become essential and highly visible in its capacity to create more sustainable worlds. How can architecture support and nurture care work and the values of cooperation and commoning that go with the recognition of care as an essential form of labor? Convened by Spitzer faculty Cesare Birignani and Vyjayanthi Rao, "Architectures of Care" explores the notion of care and the ways in which architecture might contribute to repairing built environments and social fabrics.
Sciame Lecture Series with additional funding provided by the Bernard & Anne Spitzer School of Architecture Fund.
Speaker photo credit: Elke Krasny's Website
Blog