Events
Fall 2021 Sciame Lecture Series: Huda Tayob
Archives for Forgetfulness
Thursday, Nov 4, 2021
6:00 pm - 7:00 pm
Online - Zoom meeting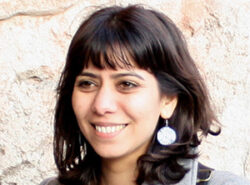 Please join us for the new SCIAME Lecture Series, titled Architectures of Care. "Archives for Forgetfulness" will feature Huda Tayob.
Free and open to the public - Register below.

Huda Tayob is a senior lecturer at the University of Cape Town. She is an architect and architectural historian. Her research focuses on migrant, minor and subaltern architectures, southern epistemologies and archival silences. She received an RIBA President Award for Research Commendation for her PhD, was the 2019 recipient of the SAH Scott Opler award for Emerging Scholars and is currently a Canadian Centre for Architecture Mellon Fellow on the project Centring Africa. She is co-curator of the open access curriculum Racespacearchitecture.org and the digital podcast series and exhibition Archive of Forgetfulness (Archiveofforgetfulness.com).
Series Theme -- Architectures of Care: In a world riven by inequality and indifference, care-work has become essential and highly visible in its capacity to create more sustainable worlds. How can architecture support and nurture care work and the values of cooperation and commoning that go with the recognition of care as an essential form of labor? Convened by Spitzer faculty Cesare Birignani and Vyjayanthi Rao, "Architectures of Care" explores the notion of care and the ways in which architecture might contribute to repairing built environments and social fabrics.
Sciame Lecture Series with additional funding provided by the Bernard & Anne Spitzer School of Architecture Fund.
Speaker photo credit: University of Johannesburg, Graduate School of Architecture
Blog