Events
Fall 2021 Sciame Lecture Series: Silvia Federici
Politics of Care
Thursday, Nov 18, 2021
6:00 pm - 7:00 pm
Online - Zoom meeting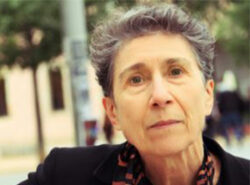 Please join us for the new SCIAME Lecture Series, titled Architectures of Care. "Politics of Care" will feature Silvia Federici.
Free and open to the public - Register below.

Silvia Federici is a feminist writer, teacher, and militant. In 1972, she was co-founder of the International Feminist Collective, which launched the Wages for Housework campaign. In the 1990s, after a period of teaching and research in Nigeria, she was active in the anti-globalization movement and the U.S. anti-death penalty movement. She is one of the co-founders of the Committee for Academic Freedom in Africa. From 1987 to 2005, she taught international studies, women's studies, and political philosophy at Hofstra University in Hempstead, NY. All through these years she has written books and essays on philosophy and feminist theory, women's history, education and culture, and more recently the worldwide struggle against capitalist globalization and for a feminist reconstruction of the commons.
Series Theme -- Architectures  of Care: In a world riven by inequality and indifference, care-work has become essential and highly visible in its capacity to create more sustainable worlds. How can architecture support and nurture care work and the values of cooperation and commoning that go with the recognition of care as an essential form of labor? Convened by Spitzer faculty Cesare Birignani and Vyjayanthi Rao, "Architectures of Care" explores the notion of care and the ways in which architecture might contribute to repairing built environments and social fabrics.
Sciame Lecture Series with additional funding provided by the Bernard & Anne Spitzer School of Architecture Fund.
Speaker photo credit: PM Press
Blog