Archived Video
Fall 2022 Sciame Lecture Series: Loreta Castro and Gabriela Carrillo
Archived Video
Academia and Praxis
Thursday, Nov 10, 2022
6:00 pm - 7:30 pm
Sciame Auditorium (Room 107)
141 Convent Avenue
New York, NY 10031
Zoom option available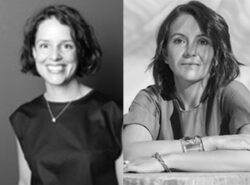 This lecture is held in-person and is part of the Fall 2022 Sciame Lecture Series, titled "Border Crossings: Architecture and Migration in the Americas."
Loreta Castro Reguera, born in Mexico City in 1979 is architect and co-founder, with José Pablo Ambrosi, of Taller Capital. Their work focuses on the design of multifamily housing buildings and public spaces that work as retroactive infrastructures. The studio has received several national and international prices such as the Architectural League of New York 2021 Emerging Voices Award and the Honorary Mention in the 2020 Architectural Review Emerging Architects Awards. Currently they are curators of RETROACTIVE, one of the four exhibitions of the 2022 Lisbon Architecture Triennale, TERRA.
Independently, Loreta coordinated with Manuel Perló a team to design Parque Hídrico Quebradora, winner of the Latinamerica  and World Gold Prizes at the fifth edition of the Holcim Awards. She is member of the National Art Creators System and of the National Academy of Architecture of Mexico. Loreta studied architecture at UNAM. She has a master's degree in architecture from the Accademia di Architettura di Mendrisio and in urban design from Harvard Graduate School of Design. She teaches architecture at Estudio RX, School of Architecture, UNAM and has been lecturer and invited professor at several universities in Latinamerica, Europe, and the U.S. She has lectured widely in America, Latin America, and Europe and has been author of several essays.
Gabriela Carrillo Valadez is principal at TallerGabrielaCarrillo since 2017 and co-founder of colectivo c733, after being partner for more than nine years at the multi-awarded studio TallerRochaCarrillo. Her work focuses on the design of private and public spaces of different scales, as well as museography and ephemeral interventions. She graduated from the Faculty of Architecture at UNAM and since 2003 has been teaching architecture there at EstudioRX. She has also been a lecturer and invited professor at several universities in Latinamerica, Europe, EUA, including Harvard GSD and the WAVE studios in Venice University. She is member of the National Art Creators System and of the National Academy of Architecture of Mexico. Her work has achieved multiple national and international recognitions including the Emerging Voices Award in 2014, the Cátedra Federico Mariscal by FA UNAM, the Médaille d´Or Palmarés 2019 by the Architecture Academy of France, and Architect of the Year 2017 by the Architectural Review.
TWO PRACTICES / ONE EstudioRX
Four years ago Loreta and Gabriela found themselves in the midst of a group of architects called ReconstruirMX made up of more than 100 members who sought to support the reconstruction process in Mexico after the 2017 earthquakes. After a year of working on this process, each one from their own objectives, they decided to propose to the director of the Faculty of Architecture of the UNAM a new research and thesis seminar called Estudio RX that will focus on the multiple social, economic, geological, ecological, and political vulnerabilities to which our practice is closely linked, approaching the territory from a reflective and experimental perspective as well as the tension between praxis and academic research.
"Academia and Praxis": The speakers will about their own practices, linked to the public and private space, and also about their academic work and the way in which to this day they have generated a dialogue and a space for reflection with students from their own research and theirs from their professional experiences.
Professor Martin Stigsgaard will introduce the speakers.
Suggested Readings:
For Loreta:
El espacio publico como sistema hidrico paralelo, alterno y sustentable para la ciudad de Mexico
For Gabriela:
Carta a un estudiante de arquitectura
"Border Crossings: Architecture and Migration" in the Americas presents meditations on the topic of migration from nontraditional, creative, and interdisciplinary perspectives. The distinguished speakers -- architects, landscape architects, architecture historians, social historians, a philosopher, an anthropologist, and an attorney -- question conventions, especially the conceptualization of migration as linear. They frame migration as a multivalent process, considering the lived realities and material conditions of migration, historically and in the present. Migration in the Americas is more than just the movement and resettlement of bodies, numbers that cross lines and appear/disappear in different places. Migration is not merely (dis)placement, it is also a metamorphosis. Migrants are human beings who are transformed to the core by their movement, and they transform not only their places of departure and arrival, but the entire space that is filled with their journeys.
All lectures are free, open to the public, and held in the Bernard and Anne Spitzer School of Architecture Sciame Auditorium with remote option available. See https://www.ccny.cuny.edu/return-campus for current requirements for in-person visitors.
For remote viewing via Zoom, please register here.
This lecture series is made possible by the Spitzer Architecture Fund and the generous support of Frank Sciame '74, CEO of Sciame Construction.
Blog