Events
Fall 2023 Sciame Lecture Series: Menna Agha
Nubian (Dis)places
Thursday, Nov 16, 2023
5:30 pm - 7:00 pm
Sciame Auditorium (Room 107)
141 Convent Avenue
New York, NY 10031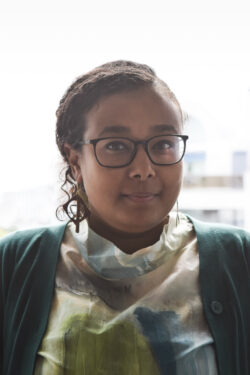 This lecture will be in person and is part of the Fall 2023 Sciame Lecture Series, titled "Crosscurrents: Architecture, Landscape, and Spatial Practices in Southwest Asia and North Africa."
Menna Agha is the Assistant professor of design and spatial justice at Carleton University. She is a third-generation displaced Fadicha Nubian, a legacy that infuses her research interests in race, gender, space, and territory. Among her publications are Nubia still exists: The Utility of the Nostalgic Space; The Non-work of the Unimportant: The Shadow Economy of Nubian Women in Displacement Villages; and Liminal Publics, Marginal Resistance.
"Nubian (Dis)places": In this talk, Menna will be discussing the concept of displacement as a form of spatial literacy, and she will also be discussing various narratives related to Nubian history. This suggests that she may explore how displacement has shaped the understanding and representation of Nubian history. In the context of Nubian contemporary history, displacement often refers to the construction of the Aswan High Dam and the resulting flooding of Nubian villages along the Nile River. This event led to the resettlement of many Nubian communities, and it had a profound impact on their way of life, cultural practices, and historical narratives. Menna will explore how this is not the entire story of Nubian displacement, and others like it, have influenced the way Nubian history is understood and told. During her talk, Menna may also touch upon how different narratives have emerged regarding Nubian history, possibly including both traditional oral histories and more recent academic interpretations. These narratives can vary widely, reflecting the perspectives of different groups and individuals, and Menna may discuss how they contribute to our understanding of Nubian heritage and identity.
Suggested Reading: Agha, M. (2020). Emotional Capital and Other Ontologies of the Architect. Architectural Histories, 8(1).
"Crosscurrents: Architecture, Landscape, and Spatial Practices in Southwest Asia and North Africa" probes the radical reimagining of the region compelled by the expression Southwest Asia and North Africa (SWANA). In recent years, the acronym SWANA has gained currency among architects, landscape architects, urbanists, and historians who conceptualize the territories of the Middle East and North Africa through geography and place rather than colonial frameworks. The term "Middle East" was a British invention, a tool used to advance colonialism in a region where so many national borders resulted from imperialist interventions. In the Fall 2023 Sciame Lecture Series, groundbreaking designers, scholars, practitioners, and activists chart multiple—and sometimes competing—currents in the architecture of the region and its diasporas, while displacing essentializing colonial narratives. To do so, speakers from across the area shed light on global, transnational, and diasporic human stories about design, space, landscape, and architecture in SWANA, and advance new ideas about territory, buildings, places, histories, and belonging.
All lectures are free, open to the public, and held in the Bernard and Anne Spitzer School of Architecture Sciame Auditorium.
See https://www.ccny.cuny.edu/return-campus for current requirements for in-person visitors.
This lecture series is made possible by the Spitzer Architecture Fund and the generous support of Frank Sciame '74, CEO of Sciame Construction.
Blog