Events
Fall 2023 Sciame Lecture Series: Pamela Karimi
Sand to Salvation: Crafting Humanity's Future through the Wisdom of Desert Architecture
Thursday, Sep 14, 2023
5:30 pm - 7:00 pm
Sciame Auditorium (Room 107)
141 Convent Avenue
New York, NY 10031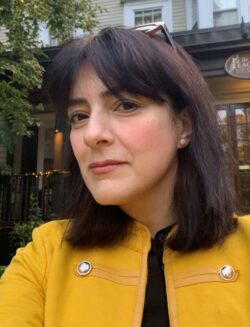 This lecture will be in person and is part of the Fall 2023 Sciame Lecture Series, titled "Crosscurrents: Architecture, Landscape, and Spatial Practices in Southwest Asia and North Africa."
Pamela Karimi specializes in the study of modern and contemporary art, architecture, and visual culture in the Middle East. An alumna of MIT, where she earned her doctorate, she is now serving as a professor at the University of Massachusetts Dartmouth. Her notable publications include Domesticity and Consumer Culture in Iran (Routledge, 2013) and Alternative Iran: Contemporary Art & Critical Spatial Practice (Stanford University Press, 2022). Currently, with the support of the National Endowment for the Humanities and fellowships from Princeton and Heidelberg Universities, Dr. Karimi is developing a manuscript exploring the nexus between design and environmental issues in the Middle East. This presentation offers a glimpse into this ongoing research.
"Sand to Salvation: Crafting Humanity's Future through the Wisdom of Desert Architecture": This lecture examines a pivotal yet underappreciated episode in the history of modern environmentalism: the resurgence of Iran's traditional eco-friendly architecture amidst the oil boom of the 1960s and '70s. In the arid MENA region, distinct societal, political, and architectural adaptations evolved in response to desert life. Yet, these were often dismissed as inadequate by colonial and pseudo-colonial powers, instigating disruptive interventions. With the advent of the 20th century, an escalating dependence on fossil fuels and modern environmental management technologies led to the gradual disappearance of these sustainable practices. Remarkably, during the period of the oil crisis and the countercultural environmental movement, a revival of Iran's eco-architecture occurred. This study illuminates Iran's pioneering contributions to environmental design during this tumultuous era, showcasing how a diverse group of architects, philosophers, and Sufi scholars proposed innovative planetary visions and design solutions that retain their relevance. Despite their significance, these activities have largely been overlooked, and this lecture aims to bring them into focus.
Suggested Reading: Pamela Karimi, "Survival by Design: Oil Crisis, the Middle East, and the Quest for Lunar Settlements".
"Crosscurrents: Architecture, Landscape, and Spatial Practices in Southwest Asia and North Africa" probes the radical reimagining of the region compelled by the expression Southwest Asia and North Africa (SWANA). In recent years, the acronym SWANA has gained currency among architects, landscape architects, urbanists, and historians who conceptualize the territories of the Middle East and North Africa through geography and place rather than colonial frameworks. The term "Middle East" was a British invention, a tool used to advance colonialism in a region where so many national borders resulted from imperialist interventions. In the Fall 2023 Sciame Lecture Series, groundbreaking designers, scholars, practitioners, and activists chart multiple—and sometimes competing—currents in the architecture of the region and its diasporas, while displacing essentializing colonial narratives. To do so, speakers from across the area shed light on global, transnational, and diasporic human stories about design, space, landscape, and architecture in SWANA, and advance new ideas about territory, buildings, places, histories, and belonging.
All lectures are free, open to the public, and held in the Bernard and Anne Spitzer School of Architecture Sciame Auditorium.
See https://www.ccny.cuny.edu/return-campus for current requirements for in-person visitors.
This lecture series is made possible by the Spitzer Architecture Fund and the generous support of Frank Sciame '74, CEO of Sciame Construction.
Blog