Events
Lecture Series: Diversity Hour
Tuesday, Mar 16, 2021
12:00 pm - 1:00 pm
Online - Zoom meeting
Please join this event through the Zoom Link here.
Diversity Hour is a time to learn and discuss architecture that reflects the many unique cultures of our next generation of architects.​ Kholisile Dhliwayo joins us for a lecture titled "BIPOC Built: Call and Response in the Built Environment."
This talk will begin with a discussion of the historical application of the process of call and response in the design of the built environment.We will then review contemporary applications of the process in architecture, and ways in which future projects seek to use this to re-imagine the ways in which architecture can engage with the people it is made for in ways that are responsive to their needs and aspirations.
Kholisile Dhliwayo has been working in architecture for the last 10 years and has worked on major projects in new york, toronto, melbourne and sydney. He is the creator of afrOURban, a collective interested in documenting and celebrating a more accurate narrative about the spaces occupied by Black people, both in the diaspora and on the African continent. The collective is comprised of Black artists, architects, practitioners & citizens from over 20 countries ranging from an Angolan Venice biennale architect to a matatu driver in Kenya.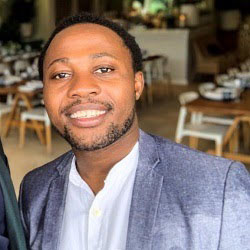 This is a NOMAS event
Blog