Lectures
SCALAR ECOLOGIES: Ganges Water Machine: Designing New India's Ancient River
ANTHONY ACCIAVATTI
Thursday, Feb 11, 2016
6:30 pm - 8:00 pm
Bernard and Anne Spitzer School of Architecture
141 Convent Avenue
New York, NY 10031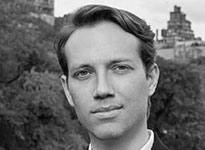 Thursday, February 11, 2016
Introduction: Meg Studer
Anthony Acciavatti is a historian, architect, and cartographer. He is an Adjunct Professor at Columbia University in the City of New York and is a principal of the design and research firm Somatic Collaborative as well as an editor ofManifest: A Journal of American Architecture and Urbanism. His most recent book, Ganges Water Machine: Designing New India's Ancient River (2015), is a dynamic atlas of the Ganges River basin—the first such comprehensive atlas in half a century—based on a decade of fieldwork and archival research begun as a Fulbright Fellow in 2005. His account of infrastructure, architecture, landscape, population, and climate is the basis of a traveling exhibition that has appeared in museums and biennials, with two more exhibitions planned in New Delhi and New York by the end of 2016. At a time when the Government of India is beginning to invest a $1.5 billion loan from the World Bank to clean up the Ganges River, the book and exhibition can serve as a guidebook to better understand and respond to environmental conditions and their social impacts.
All lectures are free, open to the public, and held at 6:30 pm in the Bernard and Anne Spitzer School of Architecture Sciame Auditorium. Continuing Education Credit for registered New York architects is available.
Lecture series sponsored by Sciame . . . Where Building Is an Art.
Blog