Lectures
SCALAR ECOLOGIES: Transition Designing What Remains Sustainable About Sharing Economies
CAMERON TONKINWISE
Thursday, Feb 25, 2016
Bernard and Anne Spitzer School of Architecture
141 Convent Avenue
New York, NY 10031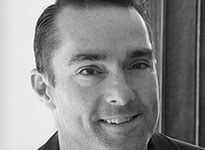 Thursday, February 25, 2016
Introduction: Hillary Brown
Cameron Tonkinwise is the Director of Design Studies at the School of Design at Carnegie Mellon University. He also directs the School of Design's Doctoral research program. Cameron has a background in philosophy and continues to research what designers can learn from philosophies of making, material culture studies and sociologies of technology. His primary area of research is sustainable design. In particular, he focuses on the design of systems that lower societal materials intensity, primarily by decoupling use and ownership - in other words, systems of shared use. Cameron has published a range of articles on the role of design, and in particular, service design, in the promotion of the sharing economy and collaborative consumption.
All lectures are free, open to the public, and held at 6:30 pm in the Bernard and Anne Spitzer School of Architecture Sciame Auditorium. Continuing Education Credit for registered New York architects is available.
Lecture series sponsored by Sciame . . . Where Building Is an Art.
Blog