Lectures
Sciame Lecture Series: Carlo Bailey
Beyond Three Dimensions: Understanding Place with Artificial Intelligence
Thursday, Feb 27, 2020
5:30 pm - 7:00 pm
Bernard and Anne Spitzer School of Architecture
141 Convent Avenue
New York, NY 10031
Sciame Auditorium (107)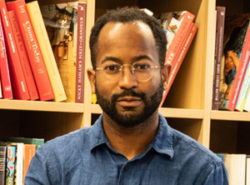 Carlo Bailey is a research scientist at Topos, a location intelligence start-up bringing advanced machine learning to the commercial real estate industry. Previously, he was a researcher in WeWork's applied sciences team. His work focuses on machine learning, agent-based modeling, data visualization, real estate and architecture, as well as creative coding. He graduated from Columbia University where he also taught a graduate class on spatial analytics. He is highly skilled in modern machine-learning frameworks and has spoken widely on the application of machine learning and data in the built environment professions.
Hosted by Shawn Rickenbacker.
The spring 2020 SCIAME lecture series at Spitzer includes a full line-up of lectures, symposia, and special events that highlight our commitment to climate, environmental, and social justice. Under the broad umbrella of "Climate Justice: Time to Think, Talk and Make Change," we've put together a truly global series of speakers. All lectures are free, open to the public, and held in the Bernard and Anne Spitzer School of Architecture Sciame Auditorium. Continuing Education Credit for registered New York architects is available.
Lecture series sponsored by Sciame . . . Where Building Is an Art.
Blog