Lectures
Sciame Lecture Series: DK Osseo-Asare
Afronautics
Thursday, Mar 12, 2020
5:30 pm - 7:00 pm
Bernard and Anne Spitzer School of Architecture
141 Convent Avenue
New York, NY 10031
Sciame Auditorium (107)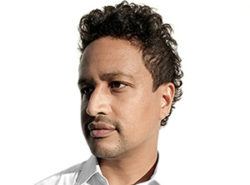 DK Osseo-Asare is cofounding principal of the transnational architecture and integrated design studio Low Design Office (LOWDO), based in Austin, Texas, and Tema, Ghana. He is also cofounder of the pan-African open tech initiative, Agbobloshie Makerspace Platform (AMP), and assistant professor of architecture and engineering design at Penn State University, where he runs the Humanitarian Materials Lab and serves as associate director of Penn State's Alliance for Education, Science, Engineering and Design with Africa.
Hosted by Lesley Lokko.
The spring 2020 SCIAME lecture series at Spitzer includes a full line-up of lectures, symposia, and special events that highlight our commitment to climate, environmental, and social justice. Under the broad umbrella of "Climate Justice: Time to Think, Talk and Make Change," we've put together a truly global series of speakers. All lectures are free, open to the public, and held in the Bernard and Anne Spitzer School of Architecture Sciame Auditorium. NYSED Continuing Education Credit for registered New York architects is available.
Lecture series sponsored by Sciame . . . Where Building Is an Art.
Blog