Lectures
Sciame Lecture Series: Jennifer Newsom
Prepositions
Thursday, Mar 28, 2019
5:30 pm - 7:00 pm
Bernard and Anne Spitzer School of Architecture
141 Convent Avenue
New York, NY 10031
Sciame Auditorium (107)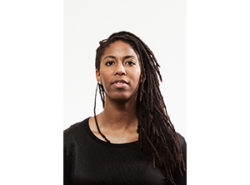 Faculty Intro: Jerome Haferd, Adjunct Associate Professor
Jennifer Newsom is a licensed architect, artist, and assistant professor at the University of Minnesota, School of Architecture. She earned a Bachelor of Arts and Master of Architecture from Yale University. While a graduate student, she organized the symposium Black Boxes: Enigmas of Space and Race at Yale School of Architecture; and wrote "Architects, African-American" entry in Africana: Encyclopedia of the African and African-American Experience. She recently presented at the landmark conference Black Architects and Planners 1968-Now held at the Smithsonian's NMAAHC in Washington, D.C.  
Newsom and Tom Carruthers founded Dream The Combine, a Minneapolis-based creative practice of artists and architects that designs large-scale public art installations exploring metaphor, perceptual uncertainties, and the boundary between real and illusory space. The award-winning practice is winner of the 2018 Young Architects Program at MoMA PS1 for their Hide & Seek installation. 
Dream the Combine has exhibited at the Museum of Modern Art and MoMA PS1 in New York, in addition to Connecticut, Minnesota, Vancouver, and Italy.  Their work has published widely, including The New York Times, Metropolis, Architect, Architectural Record, The Architect's Newspaper, and Dezeen.
All lectures are free, open to the public, and held at 5:30 pm in the Bernard and Anne Spitzer School of Architecture Sciame Auditorium. Continuing Education Credit for registered New York architects is available.
Lecture series sponsored by Sciame . . . Where Building Is an Art.
Blog