Lectures
Sciame Lecture Series: V. Mitch McEwen
The Black New Deal
Thursday, Feb 20, 2020
5:30 pm - 7:00 pm
Bernard and Anne Spitzer School of Architecture
141 Convent Avenue
New York, NY 10031
Sciame Auditorium (107)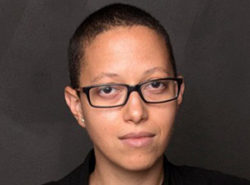 V. Mitch McEwen is an assistant professor at Princeton University School of Architecture, principal of McEwen Studio, and cofounder of A(n) Office, an architecture collaborative operating between Detroit and New York City. She joined the faculty at Princeton after relocating from Detroit, where she had been teaching at the University of Michigan's Taubman College of Architecture & Urban Planning since 2014. McEwen's design work has been awarded grants from the Graham Foundation, Knight Foundation, and New York State Council on the Arts. Her writing on architecture and urbanism has been published in Log, e-Flux Architecture, Perspecta, and Domus.
Hosted by Catherine Seavitt Nordenson.
The spring 2020 SCIAME lecture series at Spitzer includes a full line-up of lectures, symposia, and special events that highlight our commitment to climate, environmental, and social justice. Under the broad umbrella of "Climate Justice: Time to Think, Talk and Make Change," we've put together a truly global series of speakers. All lectures are free, open to the public, and held in the Bernard and Anne Spitzer School of Architecture Sciame Auditorium. NYSED Continuing Education Credit for registered New York architects is available.
Lecture series sponsored by Sciame . . . Where Building Is an Art.
Blog