Events
Spring 2022 Sciame Lecture Series: Craig Wilkins
Other Architectures...
Thursday, Feb 17, 2022
6:00 pm - 7:00 pm
Online - Zoom meeting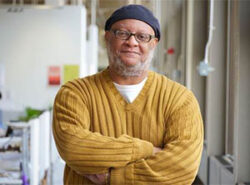 Please join us for the second event of our Spring Lecture Series, titled "Other Architectures...", featuring Craig Wilkins.⁠
This lecture is part of the 2022 Spring Sciame Lecture Series, themed "Radical Black Space."
⁠
All lectures will be presented via Zoom and held on Thursdays at 6pm NYC time. ⁠
SPEAKER
Craig Wilkins
A 2020 Bradford Grant Medal winner in Landscape Architecture and 2017 Smithsonian Cooper-Hewitt Design Museum National Design Award winner, architect, artist, academic, and activist, Dr. Craig L. Wilkins' creative practice specializes in engaging communities in collaborative and participatory design processes. The former director of the Detroit Community Design Center, he is currently creative director of the Wilkins project, a social justice, strategic design alliance that provides architectural, urban design, and planning services, public interest design solutions, and expertise in engaged public discourse. Dr. Wilkins is also the author of multi-award-winning "The Aesthetics of Equity: Notes on Race, Space, Architecture & Music" (University of Minnesota 2007) and "Diversity Among Architects: From Margin to Center" (Routledge 2016). He is currently an associate professor at the University of Michigan College of Architecture and Urban Planning, where he teaches courses on design and social justice.
Suggested Readings:
Breaking the Dead Paradigm
Innervisions
Series Theme -- Radical Black Space
The Spring 2022 Sciame Lecture series, themed Radical Black Space, brings together architects, preservationists, planners, artists, and historians of color at a precipitous moment. The Movement for Black Lives demands that Americans from all walks of life confront racism and its sordid impact on constructed environments, and understand the rich, vital tradition of Black resistance, innovation, and creativity. Speakers will touch on many questions: How do the places and things made by African Americans disrupt the racial status quo in the United States? How is difference celebrated? How is equity imagined and achieved? What constitutes anti-racist spatial practice? Radical Black Space shows that the Black radical tradition is alive in art and architecture, and that having a handle on Black history is essential to understanding the present and shaping the future. Join us to find revolution in the everyday and to recognize the extraordinary places and objects that Black Americans make and the stories they tell about themselves. Radical Black Space is convened by Marta Gutman and Jerome Haferd.
Sciame Lecture Series with additional funding provided by the Bernard & Anne Spitzer School of Architecture Fund.
Blog