Events
Spring 2022 Sciame Lecture Series: Iman Ansari
Archived Video
Melting into Air
Thursday, Mar 17, 2022
6:00 pm - 7:00 pm
Online - Zoom meeting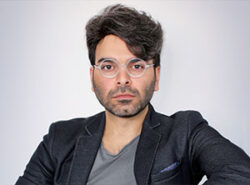 This lecture is in the past and was presented via Zoom.
The speakers have kindly agreed to make a recording of this talk available here. See above or on YouTube.
Please join us for the First Annual Spitzer Alumni Lecture, part of our Spring Lecture Series, titled "Melting into Air", featuring Iman Ansari (B Arch '08).⁠
This lecture is part of the 2022 Spring Sciame Lecture Series, themed "Radical Black Space."
⁠
All lectures will be presented via Zoom and held on Thursdays at 6pm NYC time. ⁠
Melting into Air
Architecture is the domain of interactions: the disciplinary exchange of knowledge and expertise, the technical intervention of tools and techniques of practice, and even the physical interplay of objects, bodies, and particles in space. Beyond a reliance on form and object-making practices, Iman Ansari's work considers architecture as a framework for those epistemological, socio-technical, and material interactions. In this lecture, Ansari will provide an overview of his research, teaching and practice, and how his work developed through navigating various disciplinary issues, modes of practice, and methods of research and scholarship.
Suggested Reading: Nature Versus Denture
SPEAKER
Iman Ansari
Iman Ansari is an architectural historian, designer, and educator. He is a founding principal of AN.ONYMOUS and an Assistant Professor at the Ohio State University Knowlton School of Architecture. His practice focuses on experimental approaches towards architecture and urbanism through an exploration of tools, methods, and techniques of production. His office has worked as a consultant for NASA JPL and is currently a design partner of Hyperloop Transportation Technologies. His work has been published widely and exhibited at international venues including the Venice Architecture Biennale, the MoMA PS1, the Hammer Museum, and the A+D Museum.
Ansari's research examines the intertwined relationship between architecture and medicine in the production of scientific knowledge and professional expertise in the late nineteenth and early twentieth century. He has contributed to multiple books and edited volumes on architectural history and theory, landscape architecture and urbanism. His writings have appeared in Architectural Review, Architectural Theory Review, Architect's Newspaper, Cabinet, Journal for the Society of Architectural Historians, Log, Metropolis, Room One Thousand and Places Journal, among others.
Prior to joining OSU Knowlton School of Architecture, Ansari taught at various institutions including USC School of Architecture, UNLV School of Architecture, UCLA Architecture and Urban Design, and CCNY Spitzer School of Architecture. Ansari holds a Bachelor of Architecture from the Spitzer School of Architecture at the City College of New York, a Master of Architecture in Urban Design from Harvard University Graduate School of Design, and a Ph.D. in Architecture from the University of California, Los Angeles.
Series Theme -- Radical Black Space
The Spring 2022 Sciame Lecture series, themed Radical Black Space, brings together architects, preservationists, planners, artists, and historians of color at a precipitous moment. The Movement for Black Lives demands that Americans from all walks of life confront racism and its sordid impact on constructed environments, and understand the rich, vital tradition of Black resistance, innovation, and creativity. Speakers will touch on many questions: How do the places and things made by African Americans disrupt the racial status quo in the United States? How is difference celebrated? How is equity imagined and achieved? What constitutes anti-racist spatial practice? Radical Black Space shows that the Black radical tradition is alive in art and architecture, and that having a handle on Black history is essential to understanding the present and shaping the future. Join us to find revolution in the everyday and to recognize the extraordinary places and objects that Black Americans make and the stories they tell about themselves. Radical Black Space is convened by Marta Gutman and Jerome Haferd.
Sciame Lecture Series with additional funding provided by the Bernard & Anne Spitzer School of Architecture Fund.
Blog