Archived Video
Spring 2022 Sciame Lecture Series: Jerome Haferd, Emanuel Admassu, Curry Hackett, and Jennifer Newsom
Archived Video
Conversation: Black Land Consortium
Thursday, Feb 10, 2022
6:00 pm - 7:00 pm
Online - Zoom meeting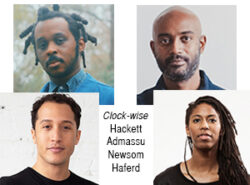 This lecture is in the past and was presented via Zoom.
The speakers have kindly agreed to make a recording of this talk available here. See above or on YouTube.
Please join us for the first of our Spring Lecture Series events, titled "Conversation: Black Land Consortium", featuring Jerome Haferd, Emanuel Admassu, Curry Hackett, and Jennifer Newsom.⁠
This panel talk will be held in a workshop format and is part of the 2022 Spring Sciame Lecture Series, themed "Radical Black Space."
⁠
All lectures will be presented via Zoom and held on Thursdays at 6pm NYC time. ⁠
Conversation : Black Land Consortium
The Black Land Consortium is an ongoing dialogue, convened by Emanuel Admassu, Jerome Haferd, Curry Hackett, and Jennifer Newsom, to discuss how concerns of Blackness and Land relate to design and pedagogy today. In this live sharing and workshop session, the collaborators will connect urgent questions emerging in their practices and relative geographies to pedagogy and curricula. How can we disentangle architecture and urban design from property? How can we disassemble the exploitative regimes of speculation and displacement that anchor the built environment?
SPEAKERS
Emanuel Admassu
Emanuel Admassu ('12 MSAAD, '13 AAR) is an Assistant Professor at Columbia GSAPP. He is a founding partner, with Jen Wood, of AD—WO, an art and architecture practice based in New York City, and by extension, between Melbourne and Addis Ababa. He is also a co-founding board member of the Black Reconstruction Collective.
His art, design, and teaching practices operate at the intersection of design theory, spatial justice, and contemporary African art. The work meditates on the international constellation of Afrodiasporic spaces. Most recently, he has been analyzing the socio-spatial identities of two urban marketplaces: Kariakoo in Dar es Salaam and Merkato in Addis Ababa. Admassu has previously taught at RISD Architecture and Harvard GSD.
AD—WO's work was featured in the exhibition Reconstructions: Architecture and Blackness in America at the Museum of Modern Art. Their installation focuses on the immeasurability of Black spatial practices in Atlanta and the Atlantic.
http://ad-wo.com/
Instagram: @ad_wo
Jerome Haferd
Jerome Haferd is an architect and educator based in Harlem, NY and the Hudson Valley. He is co-founder of the award-winning design and research practice BRANDT : HAFERD. Jerome's work focuses on how architecture establishes a dialogue between contemporary phenomena and non-hegemonic users and spaces. His writing on Blackness, archaeology, and speculation has been published in Log and Project journals. His studio was the winner of the 2020 AIA New Practices Award, and the 2019 ZeroThreshold competition. Jerome is currently substitute assistant professor at City College SSA, and adjunct faculty at Columbia GSAPP and Yale University. He is a core initiator of Dark Matter University.
http://www.brandthaferd.com
Instagram: @jhaferd, @brandt_haferd
Curry Hackett
Curry Hackett is a transdisciplinary designer, public artist, and educator. His practice,Wayside, focuses on placekeeping and creative strategy to engage matters concerning culture,ecology, and the public realm. Hackett began his academic career at his alma mater, Howard University, before joining the faculty as Lecturer and Adjunct Assistant Professor at the University of Tennessee–Knoxville
https://www.wayside.studio/
Instagram: @wayside_studio, @curryhackett
Jennifer Newsom
Jennifer Newsom received her Bachelor of Arts from Yale College and her Master of Architecture from Yale University, where she also received the Fermin Ennis Memorial Fellowship and the Anne C.K. Garland award for academic achievement. While at Yale, she organized the two-day symposium Black Boxes: Enigmas of Space and Race held at Yale School of Architecture.
Newsom is Assistant Professor at Cornell University's College of Architecture, Art, and Planning. She was formerly Assistant Professor at University of Minnesota and instructor at Juxtaposition Arts, a youth empowerment and apprenticeship program in North Minneapolis.
Newsom's research probes the conceptual space between real bodies made of flesh, steel, concrete, glass, etc, and the recognition of these bodies through images. Using race as a provocative impetus for her work, she is concerned with surface perceptions and the structures that support those readings. Prior to founding Dream The Combine, she worked with firms as diverse as Adjaye Associates, Deborah Berke Partners, Robert A.M. Stern Architects, and Cooper Robertson.
Her writing has been featured in Reconstructions: Architecture and Blackness in America, MassContext33: Vigilantism, Metropolis Magazine, Architect Magazine, and Africana: The Encyclopedia of African and African-American Experience.
http://www.dreamthecombine.com/
Instagram: @dreamthecombine
Series Theme -- Radical Black Space
The Spring 2022 Sciame Lecture series, themed Radical Black Space, brings together architects, preservationists, planners, artists, and historians of color at a precipitous moment. The Movement for Black Lives demands that Americans from all walks of life confront racism and its sordid impact on constructed environments, and understand the rich, vital tradition of Black resistance, innovation, and creativity. Speakers will touch on many questions: How do the places and things made by African Americans disrupt the racial status quo in the United States? How is difference celebrated? How is equity imagined and achieved? What constitutes anti-racist spatial practice? Radical Black Space shows that the Black radical tradition is alive in art and architecture, and that having a handle on Black history is essential to understanding the present and shaping the future. Join us to find revolution in the everyday and to recognize the extraordinary places and objects that Black Americans make and the stories they tell about themselves. Radical Black Space is convened by Marta Gutman and Jerome Haferd.
Sciame Lecture Series with additional funding provided by the Bernard & Anne Spitzer School of Architecture Fund.
Blog